I've never done this before, but I wanted to share this recipe that I have made a couple of times now for penne rosa that is pretty delicious. I searched for a recipe like this after eating the
Penne Rosa at Noodles & Company
and loving it. My recipe that I am about to share is based off of
this recipe
I found online, but with a few less ingredients.
What You'll Need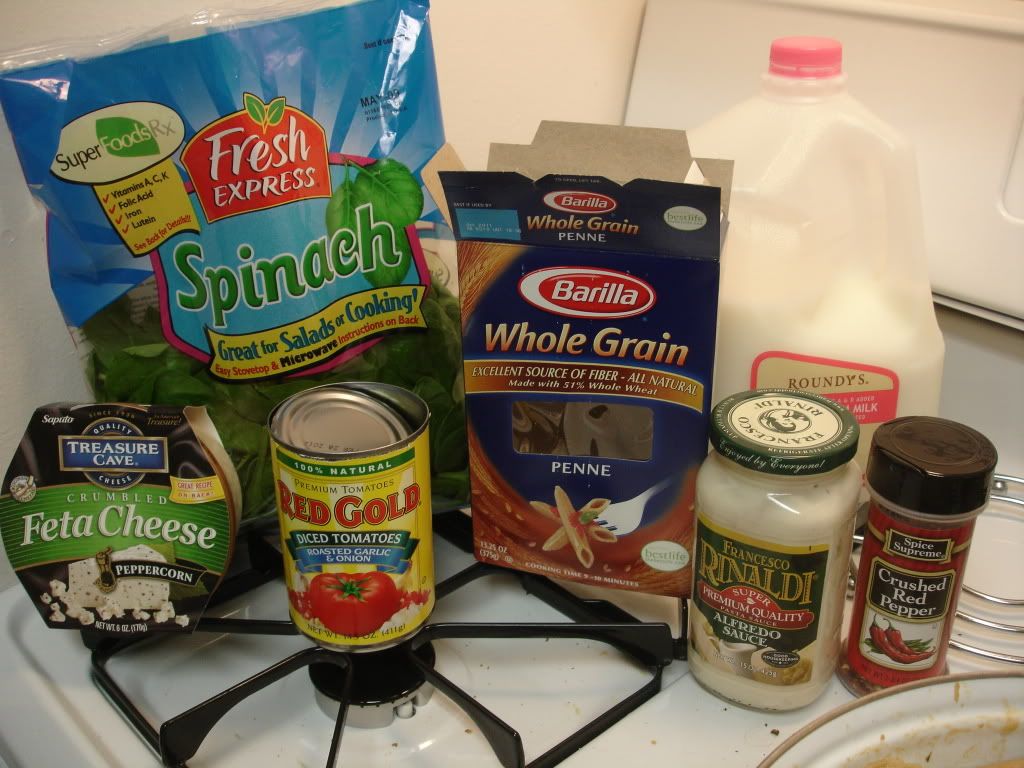 1 lb penne pasta

2 Tbsp extra virgin olive oil (not pictured)

1/2 c. alfredo or marinara sauce (I used alfredo)

14 oz. can of diced tomatoes (or dice your own!)

1/2 tsp. crushed red pepper

1/4 c. milk or cream

spinach, about a cup

feta cheese, or shredded mozzarella or parmesan

One pan to cook your noodles in, a colander to drain them, and you can use the same pan and spoon for the rest! Easy clean-up!

Step 1
Cook the pasta, according to the box's instructions. Rinse with hot water and set aside.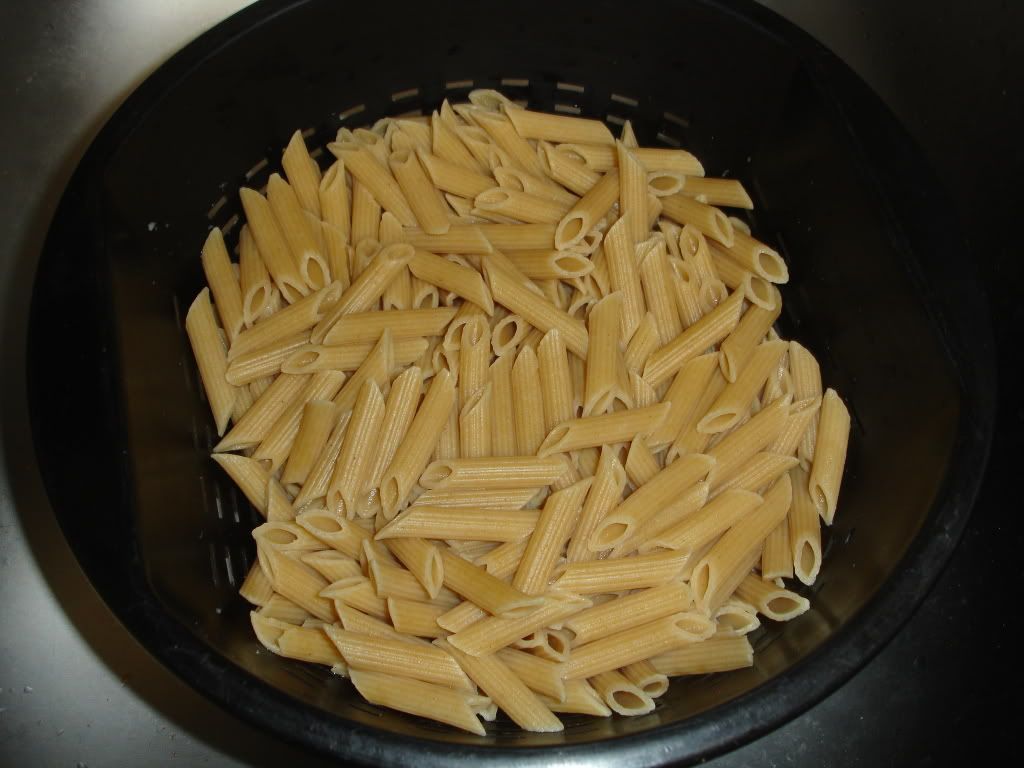 Step 2
Heat together:
2 Tbsp olive oil, 1/2 c. sauce, can of tomatoes (slightly drained), 1/2 tsp. crushed red pepper (or more if you like it spicy!)

Cook for 4-5 minutes on medium heat.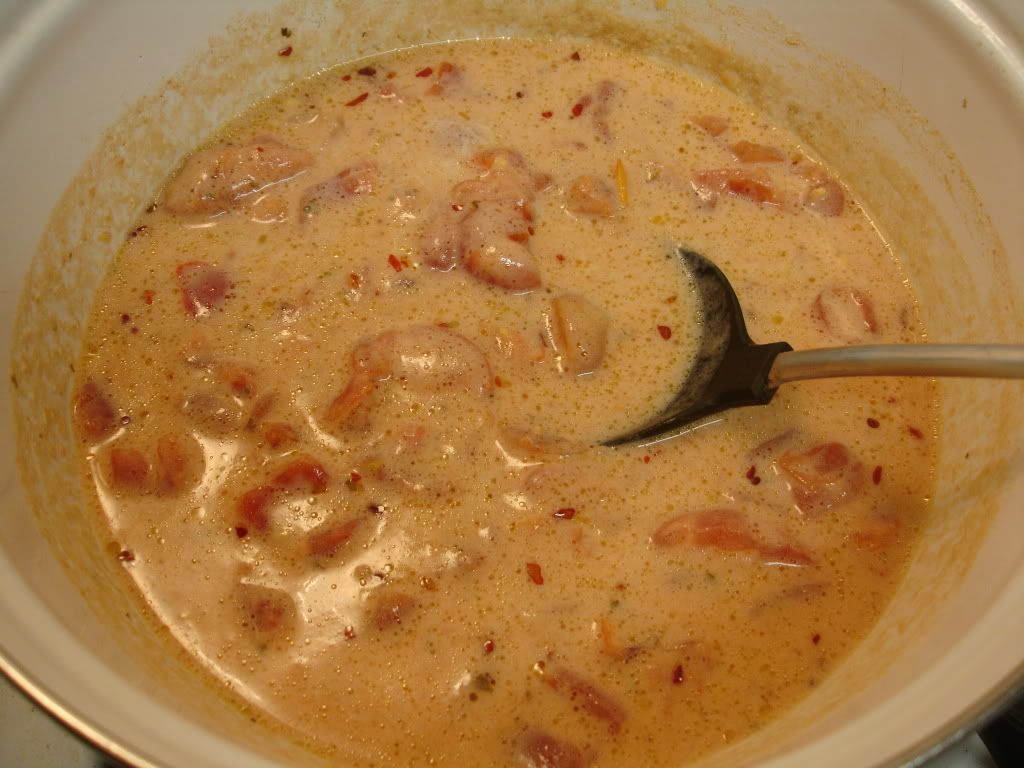 Step 3
Add your cooked pasta into the mix, along with 1/4 c. of milk or cream and stir until noodles are heated throughout.



Step 4
Add in the spinach. I just added a couple of handfulls to the top.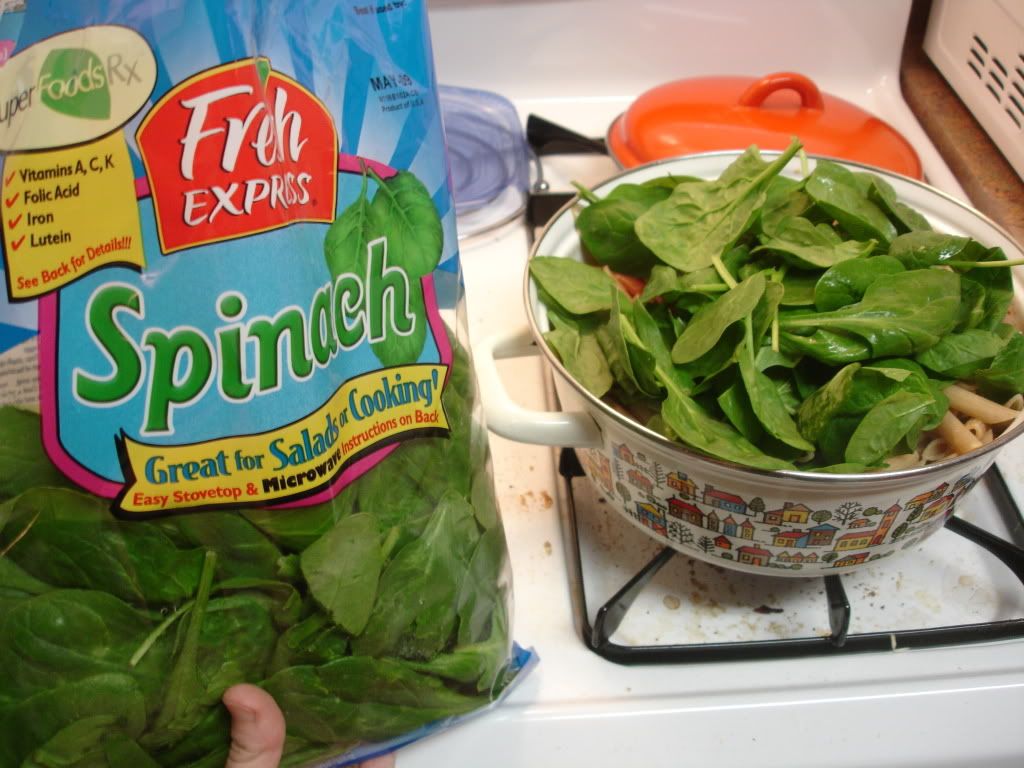 Stir to incorporate the spinach. Stir and heat until spinach gets wilty.



Final product: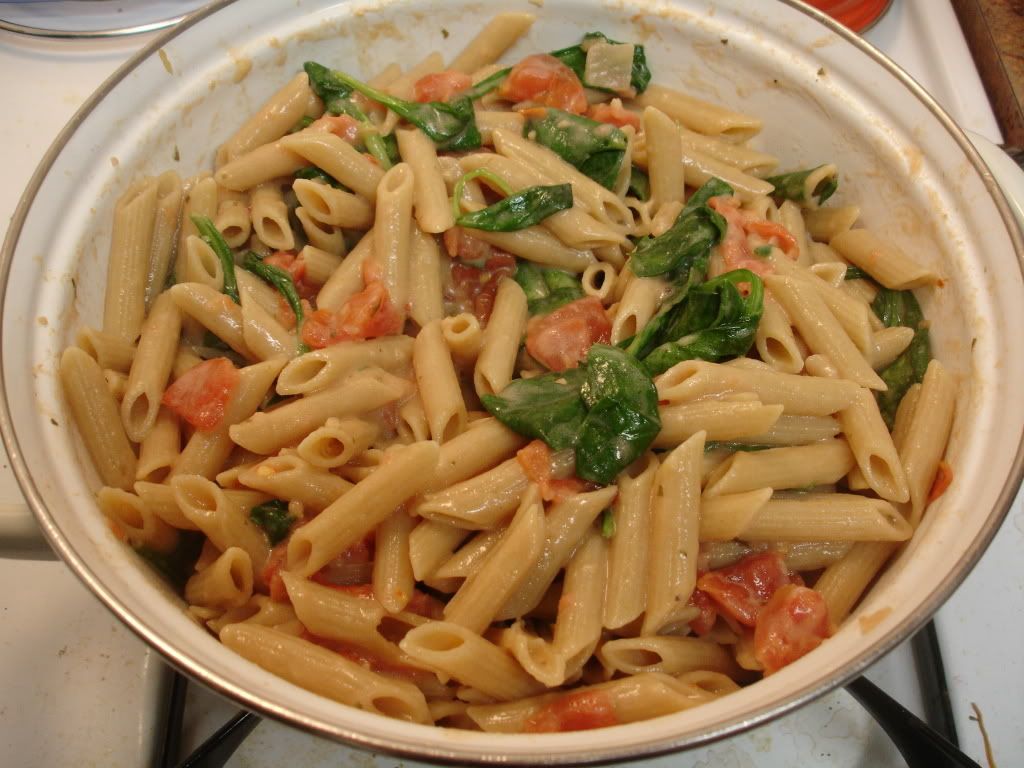 Step 5
Garnish with the feta or other cheese before serving: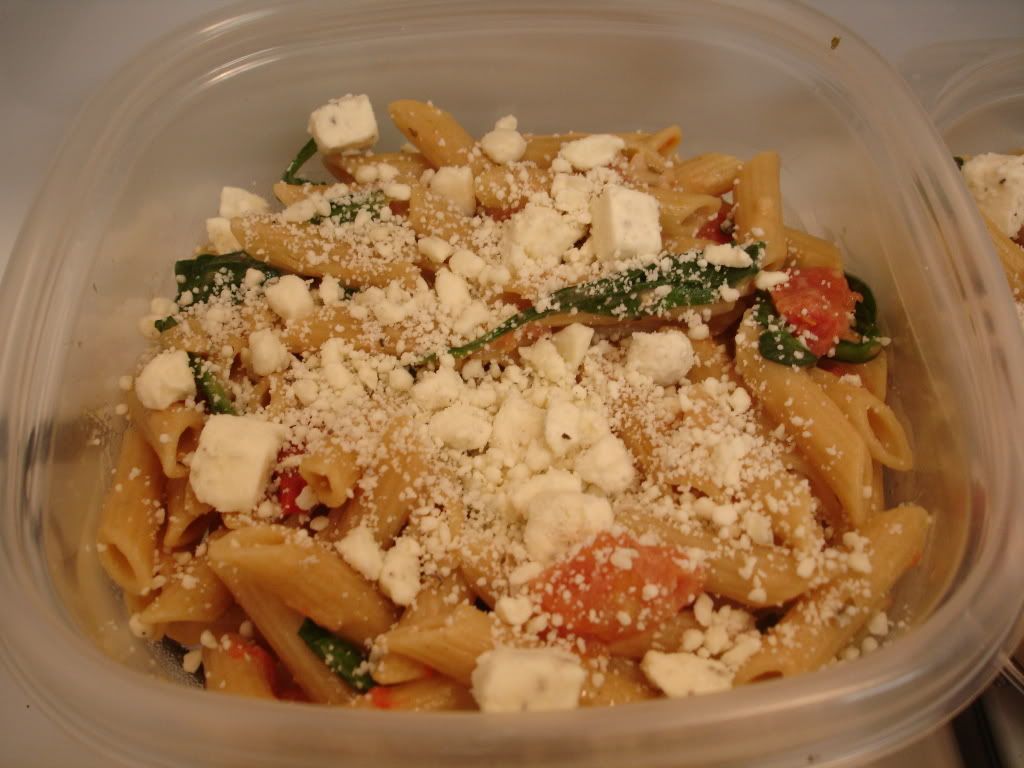 Notes:
I like this recipe because it's easy, tasty, and makes a lot of food!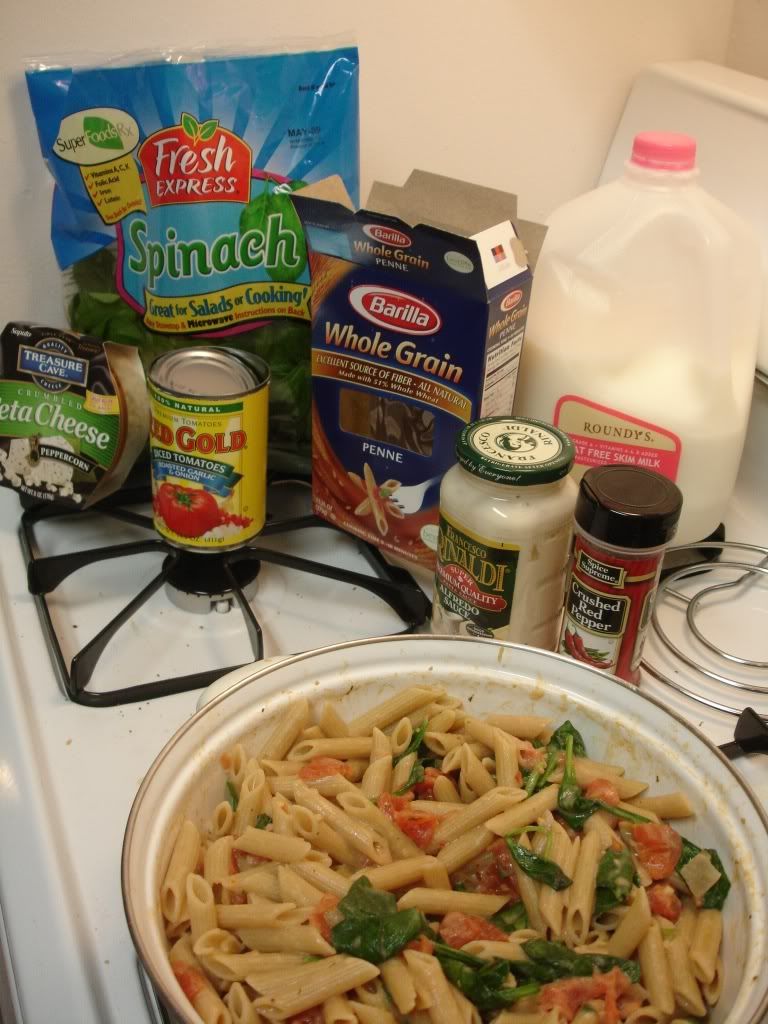 I packed my penne rosa up into individual servings so I can eat it for lunches this week. I got 5 servings out of the recipe, but these servings are pretty big, so you could definitely get more out of the recipe.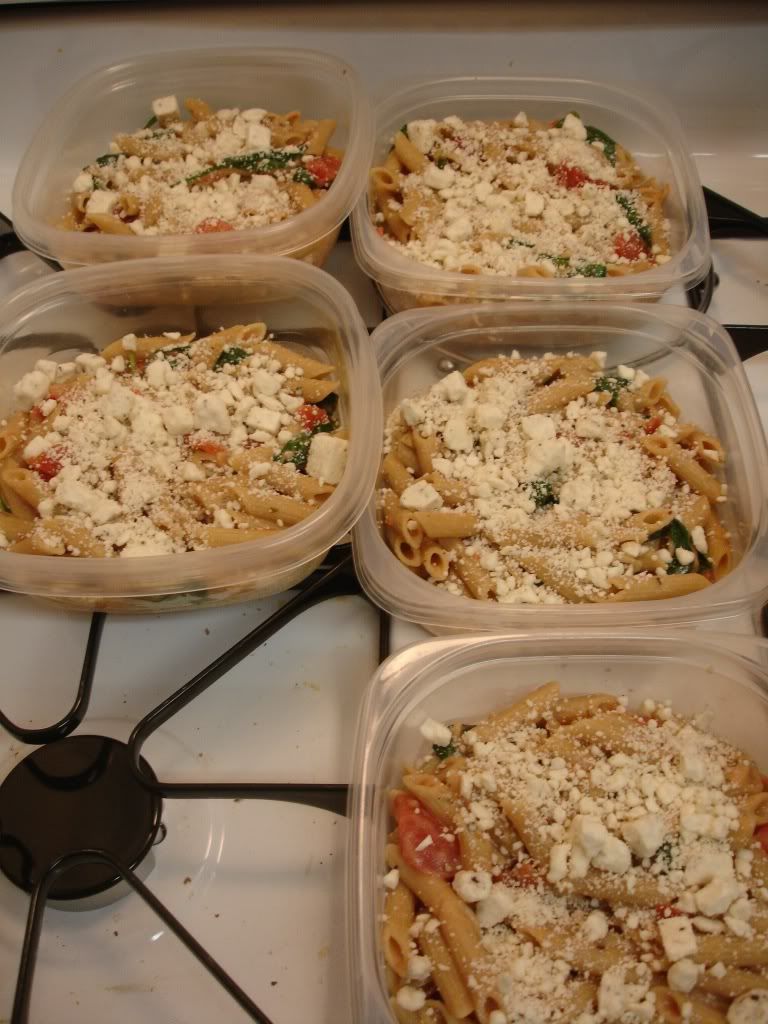 Now I get to eat these all week!



Pricing:
I bought all the ingredients to make this recipe for $12.34. Some of the items were on sale, but I would say this is definitely a dish that should cost you less than $15.


Penne pasta $.99 (on sale, but other brands that weren't whole grain were cheaper, too)

Can of tomatoes $1.49 (on sale)

Can of alfredo sauce $2.29 (on sale)

Feta cheese $2.79

Spinach $2.49

Milk $2.29 (on sale since I bought more than one gallon)
= $12.34

But this figure is off, if you want to get into specifics, because I only used 1/3 the can of alfredo, about 1/4 the bag of spinach, and only 1/4 cup out of the entire gallon of milk!

Also note that I haven't included the price of the extra virgin olive oil or the crushed red pepper flakes since I already had those in my pantry.

Overall, this is a tasty and healthy recipe that is super easy to whip up, tastes excellent as leftovers throughout the week, and doesn't break the bank or have you searching for weird ingredients in the grocery store. Yum!