This post is my attempt to begin blogging again more often. About any and all subjects, whether or not they seem "important".
First of all! Goals. Supposedly you're more likely to reach your goals if you write them down and tell people about them. So here's both:
Goal #1 - Run a 10K
7/26/2010
My goal is to complete the 8-week "Your First 10K" program between today and the end of September so I'll be ready to participate in the Twin Cities 10K race on Saturday, October 2, 2010 at 7:30AM.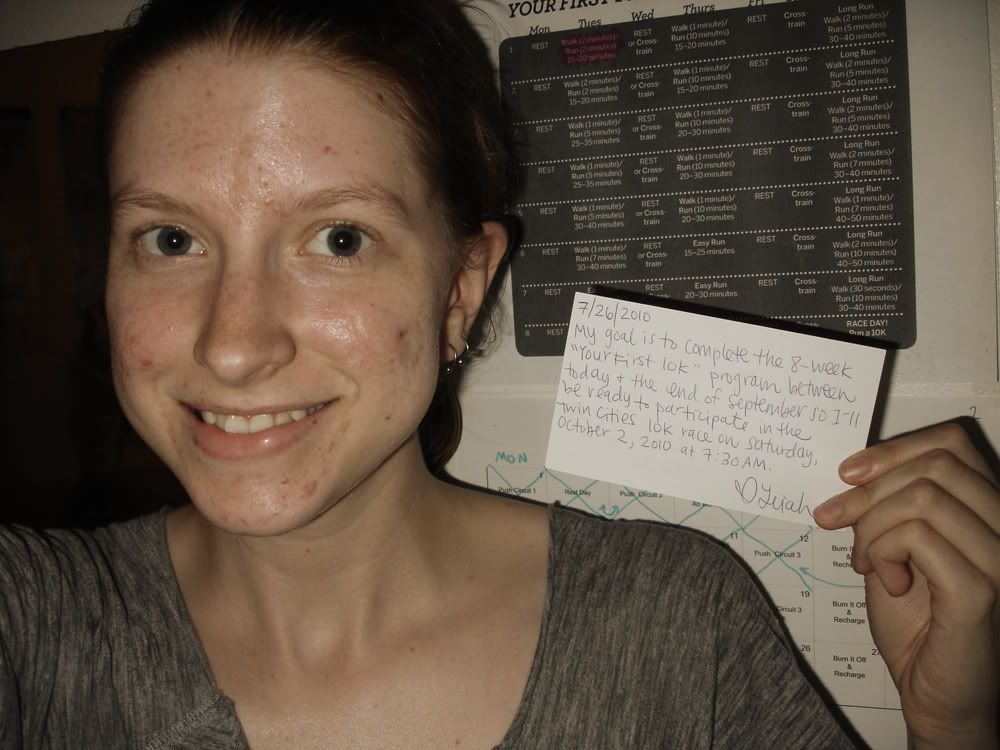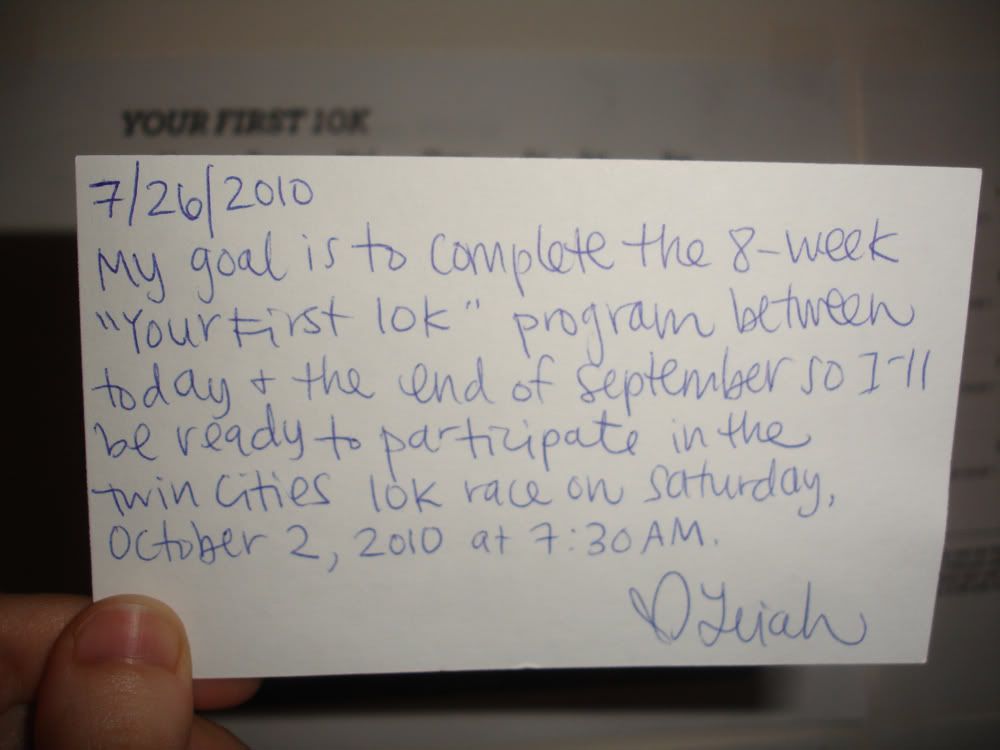 (please excuse my post-run hair and pajamas!)
In order to do this, I'll need to train. I found a "Your First 10K" training guide on
Fitness Magazine's website
. Here is what it looks like: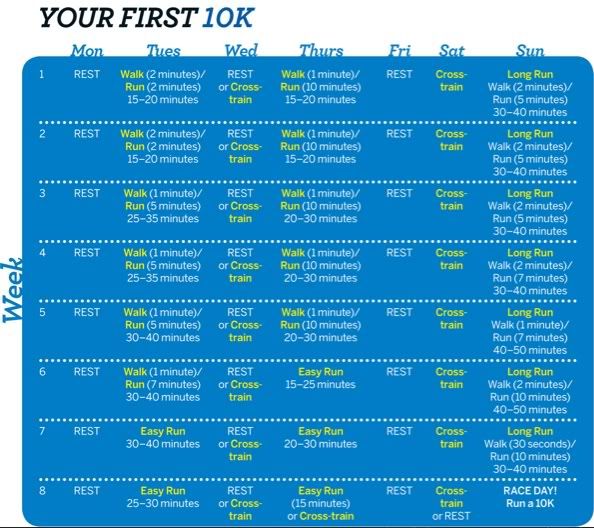 I will be attempting to train and run in my new Vibram Five Fingers shoes. So I'll be learning to run in these (basically barefoot) while also learning to run 6.2 miles in one go. Whew!
Look, they're already dirty inside! :)
Progress so far:
In moderately good shape. I've been doing
Chalean Extreme
for the past month and a half, so I've built some muscle and endurance. This is good, and will help me while running (I hope)! I plan to continue the Chalean Extreme program on my "cross-train" days, or on days where I ran but still feel like I could do more. But I want to take it easy as to not get burned out.
Ran the first Tuesday on the plan today! (I skipped Monday - the rest day - because I felt like starting today) I ran on the treadmill downstairs in the workout room, and I can already feel my calves are sore. I feel like I'm still learning how to stride in the FiveFingers. I hope I'm doing it right :S
My running partner:
Rob has been gone since the beginning of June working at an internship in Boston. But he is coming back in less than 2 weeks - yay! He is a runner, and has agreed to run with me to train and hopefully run with me in the race.
The TC 10K is on October 2, which is a little less than 10 weeks away. My running program is 8 weeks long, so I can't slack off. I want to practice running outside before the end of the training since the race itself is going to be outside.
Why do it?
I would say I am notorious for starting things and NOT finishing them. Reading books, for example. I've had to make a section in my
LibraryThing profile
for books that I started and never finished.
Last year I started a similar Fitness Magazine program for running a marathon. I did pretty well for a couple of weeks, then stopped. No idea why. I was enjoying the running, and craved doing it every day. I just fell off the wagon.
THIS TIME, there's an end goal in sight. A race in October, here in the Cities where I live. I want to do it to be able to say I did it. And to start a new, active lifestyle - running is good for you, makes you healthy, makes you strong. And since my boyfriend Rob likes to run for his workouts, I want to be able to join him - and not make him wait up for me!
I can do this.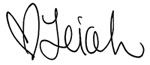 PS: I know the title of this post says "Goals" plural, but I think this one is enough for now :)