When I went to my parents' house for Thanksgiving, I was going through all my childhood belongings, and I found this:
A kit that teaches you how to knit! I received it as a gift many years ago, and never tried to use it. It looked so extremely confusing, so I just kept it all tucked away in its cute little box.
I brought it home with me, thinking I could learn to knit. Lots of people knit, right? So it can't be too difficult. Well, the instructions in the book were impossible. Especially since I had no idea what knitting even
looks
like when it's happening. I guess I'm just more of a visual learner. So instead I grabbed my found yarn and little needles (from the kit) and asked YouTube.
Cyberseams (among a few other random videos) taught me to knit.
And all those lovely ladies making tutorial videos out there have helped me along the way. The Internet is an amazing place, I must say.
My first practice piece
ever
was an embarrassment: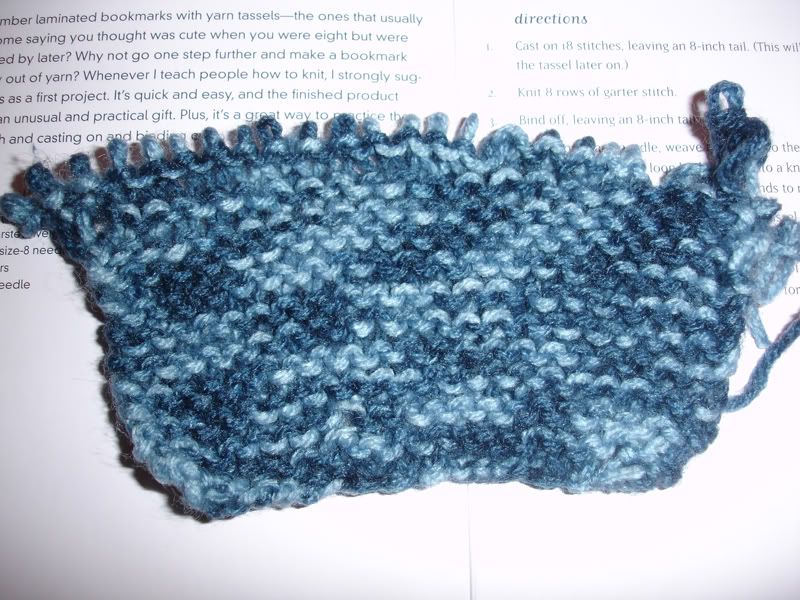 I knitted another practice "coaster" type thing (which turned out to be amazing!), but had to unravel it when I ran out of yarn for my first piece I was knitting in the round. Which, if I must explain it, turned out to be an XXL headband... or it could be called a really short cowl scarf... or a chunky knitted necklace that wouldn't stay flat and kept rolling right up into itself... either way, it was just practice. And that's OKAY.
Then I started my first real project. A scarf! Made out of some gorgeous multi-colored yarn:
It took me about a month to finish, but I did it! And when I say "finish" I really mean "I ran out of yarn and had to stop even though it wasn't long enough to be a scarf." So I sewed the 2 ends together and made a twisted cowl...thing.
It's pretty wonky, and I messed up my stitching pattern of
knit a row, purl a row
toward the beginning, so I have a few sporadic rows where the pattern is backwards.
This scarf was my first project, so I won't beat myself up too much. I'm still learning! And it's a slow learning process. When one piece takes a month, it'll take me years to sort out all my knitting issues.
But I'm already on to my next project:
Wrist Warmers based on this super-simple pattern from Martha Stewart
. Here's my funky speckled yarn, and I've got about 5 rows done. It's a start.