Pretty sure I haven't shared this print before, except on
this post of my grad school admission portfolio
. It's one of my favorite prints I did during my semester of silkscreening.
The assignment was "Utopia" - create a print that shows your utopia, or something like it. I had hard time deciding what to do. Here is a page of brainstorming in my sketchbook: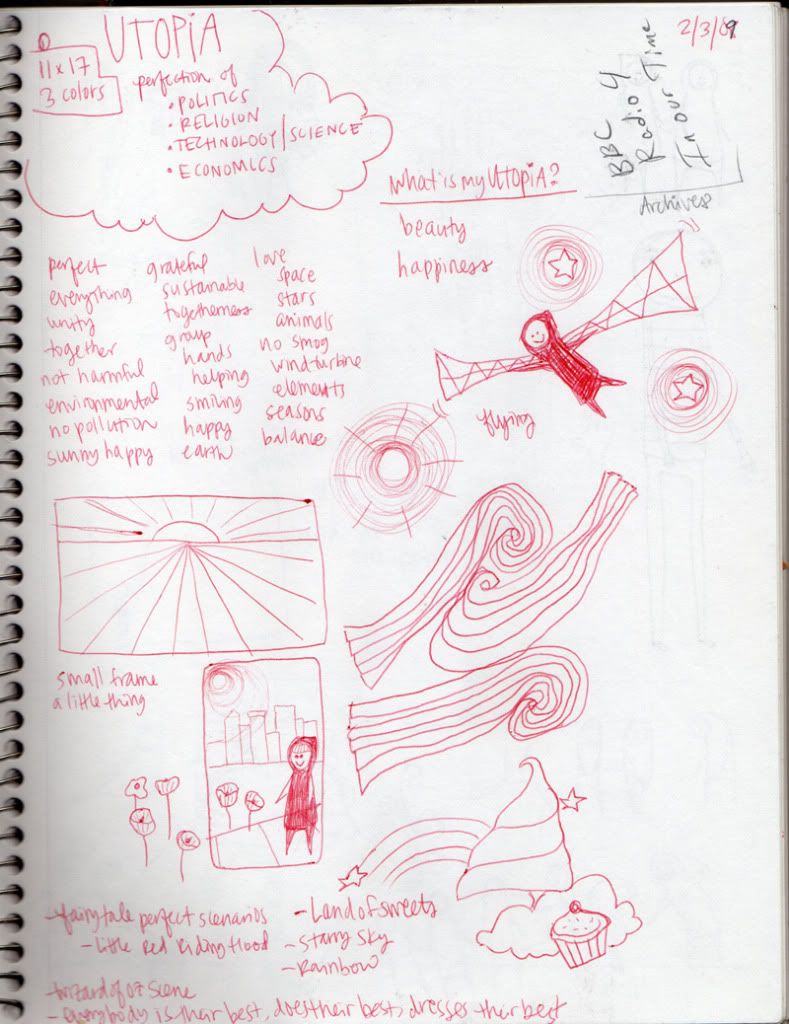 Then I really thought about what my utopia would be. I love the rain, and the feeling of being carefree out in the rain. I traveled to Scandinavia in the spring of 2007 with my college choir and my mom. I have a funny memory of being on the shore next to the ocean (we were visiting
this lighthouse
) and it was so extremely windy and rainy, my mom and I were tying our hoods tight and trying not to fall over from the gusts. My mom and I laughed so hard!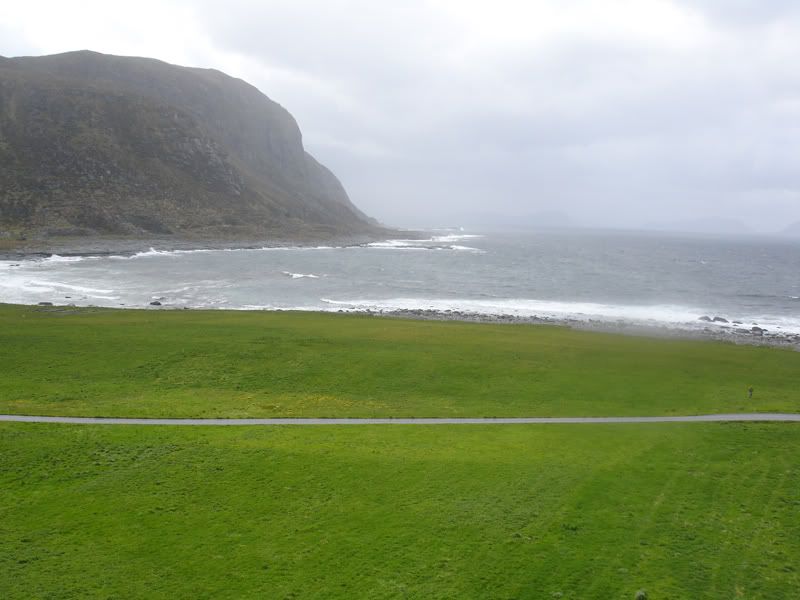 So I took that mix of carefree, running in the rain, paired with a super rainy location (that wet & windy shore). I found this photo of me spinning my skirt while shopping during a date with my boyfriend. He took this photo of me in the shampoo aisle :)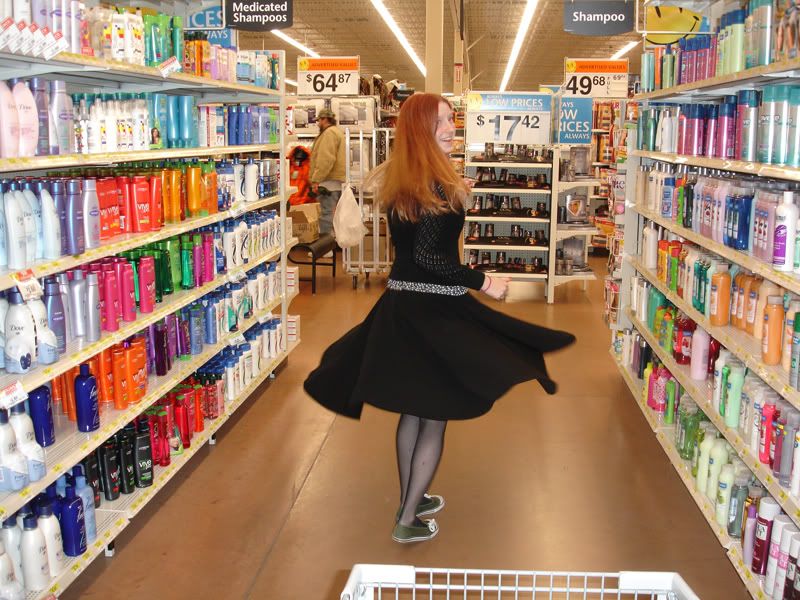 In the printmaking class, we learned how to adjust & format our photos so they would translate correctly to a screen. I made the photo of the ocean shore into a bitmap (just dots), and the one of me spinning into a stencil-sort of look using only black.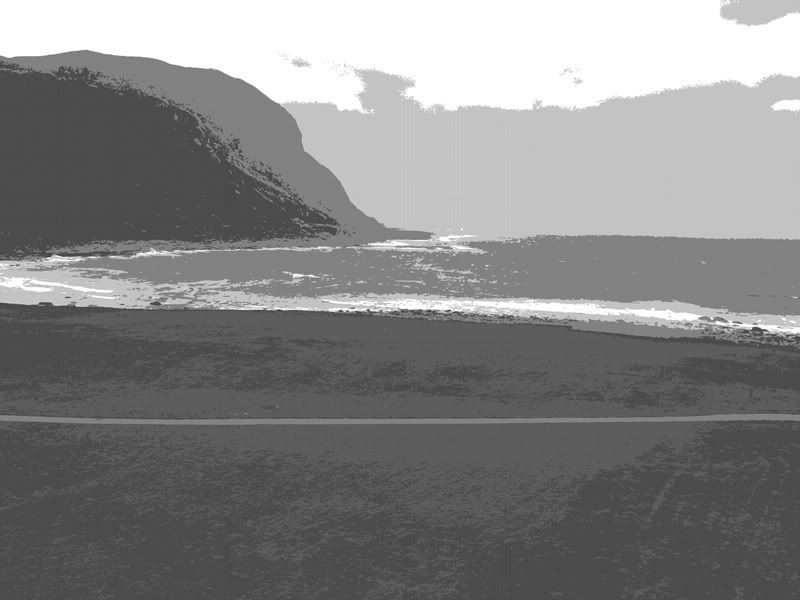 For the raindrops, I just drew with a black Sharpie marker on to a sheet of vellum that I burned directly on to the screen using the emulsion. After burning my screen, I mixed up my ink colors:
I don't have any photos of the actual printing process, but the finished print ended up being 6 colors: gray-blue for the flat background, brown for the hill, green for the ground, darker blue for the rain drops, and a sloppy gradient of orange and red for Me. (I say 'sloppy gradient' because it was just meant to be bright, with splotches of red and orange, not a smooth gradient between the two.)
And here's the final print!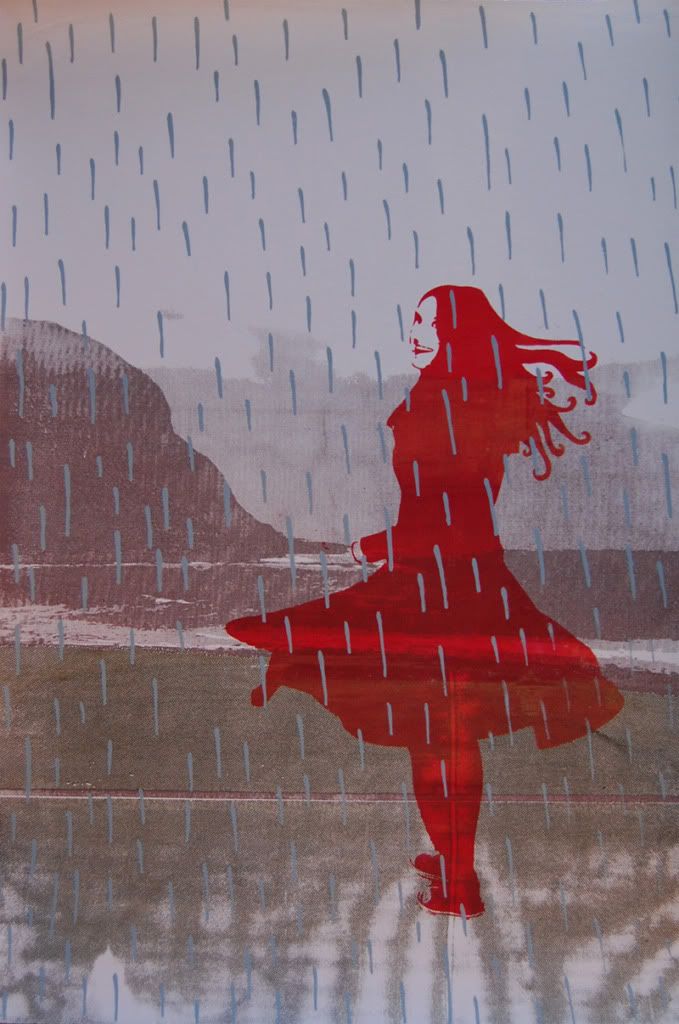 I showed it at my Senior Art Exhibit, all nice & framed. Here's me attempting to re-create the "hair blowing in the wind" :)
And there you have it! My first screenprint made using real photos. I really like how it turned out, and how it reminds me of a few memories & things that make me happy. Don't tell my mom I posted a picture of her :)