Right now I'm about half-way into
The Happiness Project
by Gretchen Rubin.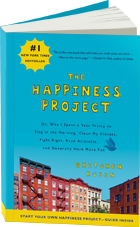 I'm really liking it so far, and it's given me a lot of great ideas to ponder... One of the things Gretchen does while embarking on her
happiness project
is come up with a list of 12 Personal Commandments.
Then I started thinking about what a few of mine could be:
1.
There is only Love.
2.
Don't piss yourself off.
3.
Listen to your body, and respond.
4.
Get into it!
5.
Don't be afraid to get your hands dirty.
I feel like this is a really good start to something that could quite possibly be amazing. I'll finish the book first, though :)
Then last night I chose to watch this documentary on Hulu called
Happiness Is
and Gretchen Rubin is in it... talk about coincidence!
Here's to Happiness...