It all started with this infographic (click to read the entire thing):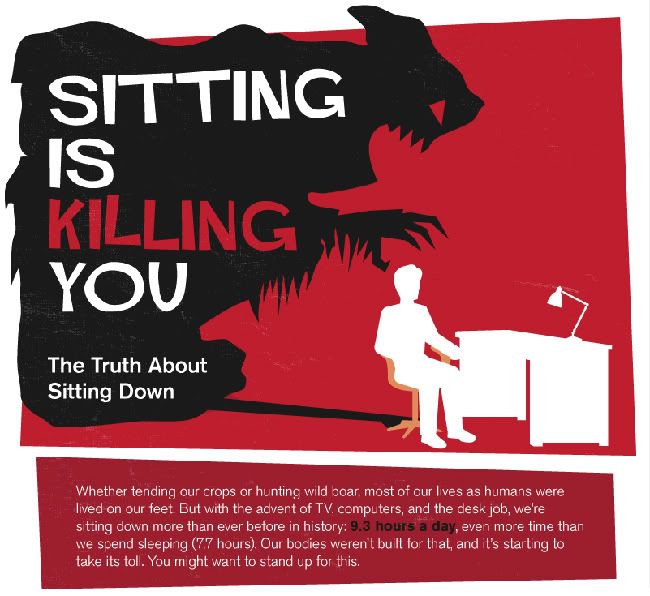 That's what planted the seed in my head a few months ago. At the time, it really struck a chord with me.
At the time, my days went something like this:
get up in the morning, sit to eat breakfast, drive my car to work and sit at a desk from 9:30 am - 5:30 pm, at which time I would sit in my car and drive home, sit down to eat supper, and spend the rest of the evening sitting on the couch or on my computer. I started noticing that I felt stiff, lazy, and groggy (especially in the afternoons), so I started taking standing lunch breaks. I needed to give my butt a break!
We moved out east and I brought my sitting desk with me. A couple of weeks into working from home every day, all that sitting was once again getting to me. Then one day, this article popped up in my reader:
My Standing Desk Experiment | Zen Habits
. That was it. I decided that if I'm going to be working from home and spending all my time sitting at a desk in front of a computer, I have to change. Even if I would have said, "I'm going to go exercise gung ho every day after work!" it wouldn't have made a big enough change.
Enter standing desk.
The day I read the
My Standing Desk Experiment
article, I hacked together something that sort of resembled a standing desk: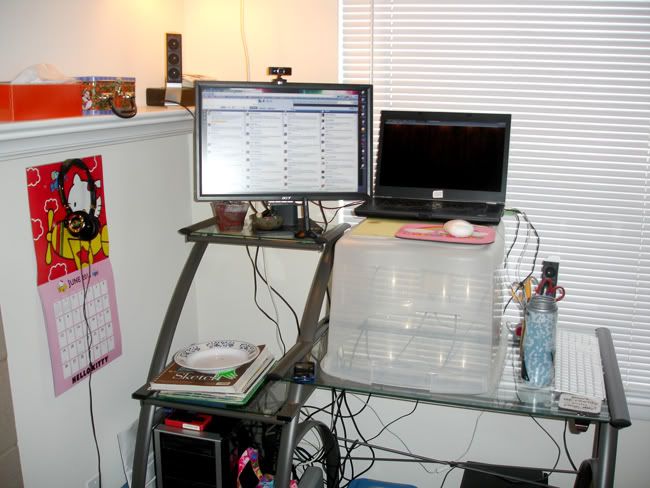 That's a plastic storage bin turned upside-down, and my monitor moved up to the top shelf. The plastic bin raised my laptop keyboard and mouse up to almost the right height for standing. But this janky piece of crap was not very sturdy and not a long-term solution. But I tried it out for a day or two, and decided that Yes, I'm going to invest in a real standing desk. I found several
IKEA Hacker posts
that inspired me to build my own using parts from IKEA.
Here's how I did it: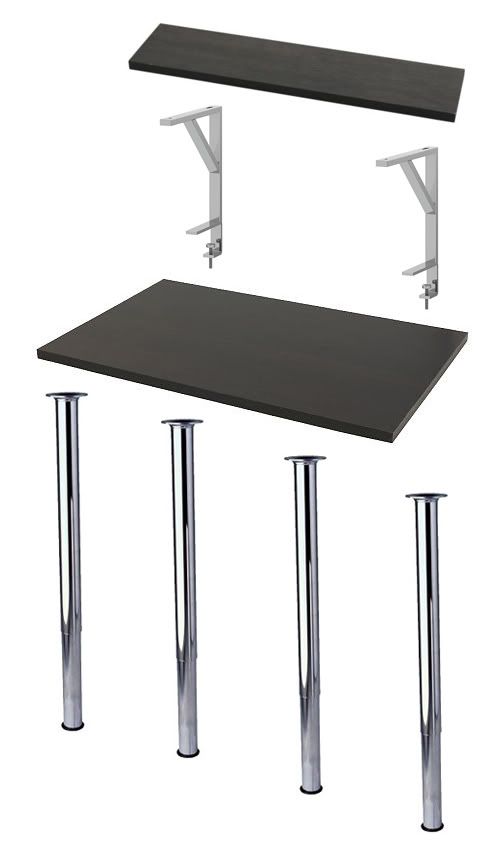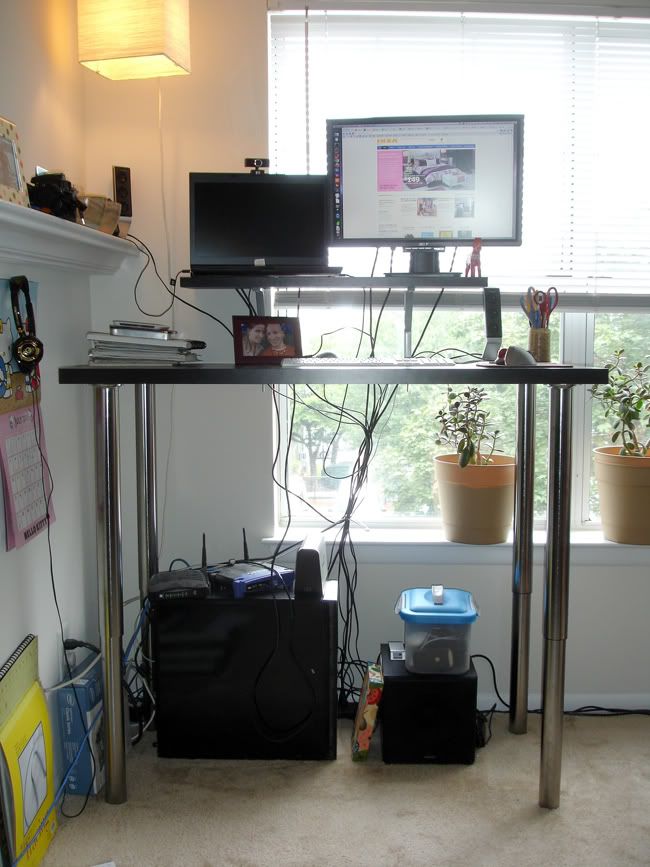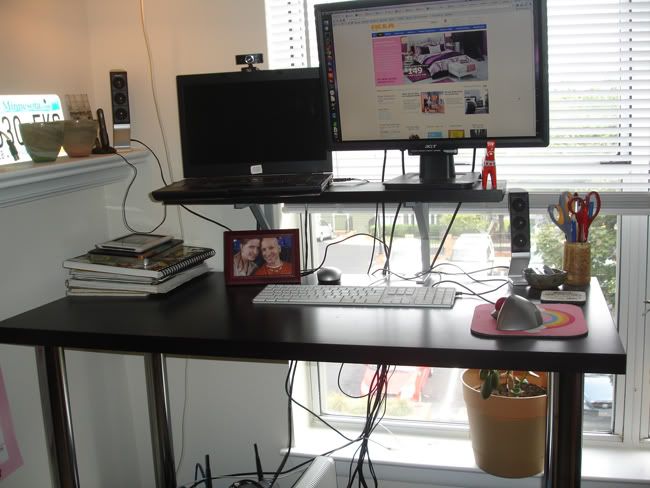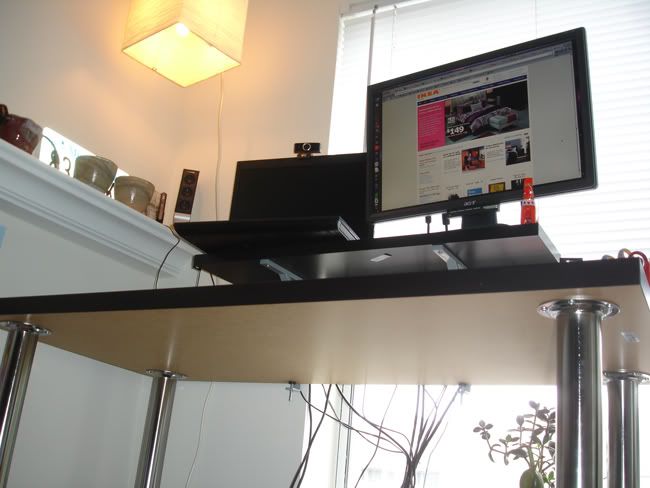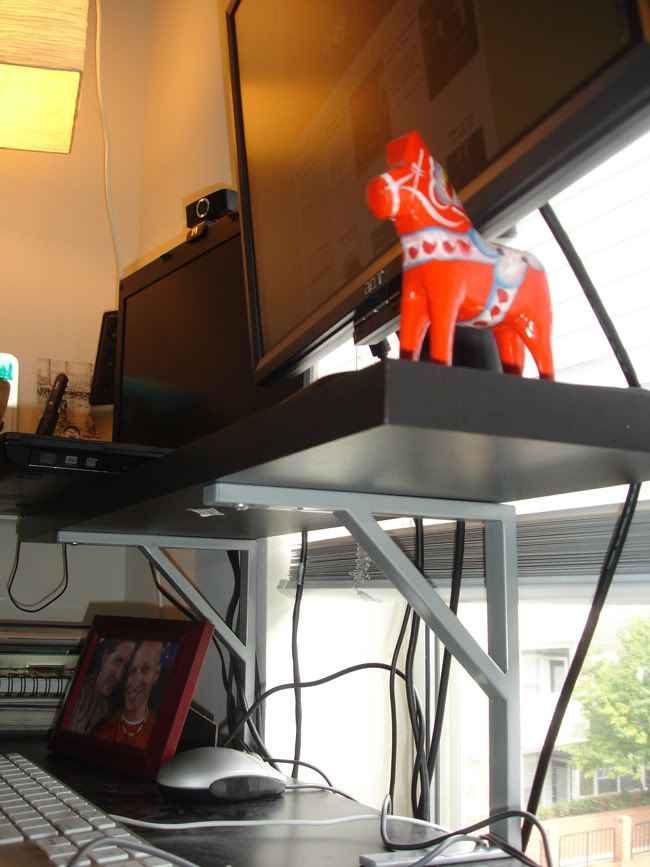 We got the