When I was young, my family would drive to this fantastic outdoor arts festival about an hour away from our home. It took place in a big park, and all these arts and food vendors would come set up and sell their wares over the weekend. We would rarely buy any of the art, but loved to just walk around and see everything, listen to the live music at the band stand, and of course eat delicious fair food.
One of the vendors at the park sold tie dye clothing. My sister and I would look forward to visiting that tie dye booth every year, even though it was always packed with shoppers, and especially kids. What kid isn't totally drawn in by an explosion of color?
Besides the fact that around fifth grade I was a major hippie-wannabe, there's just something about tie dye that makes you love it. Here's me at summer camp with my childhood best friend, rockin' a tie-dye tank I got from that vendor in the park: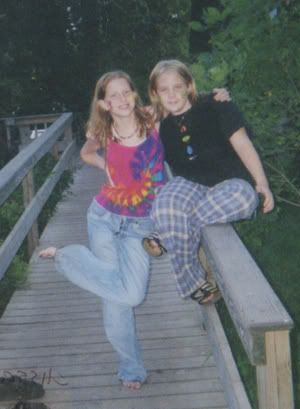 Of course I still love the super bold, bright, rainbow tie dye that is typical of the art, but I've also found some excellent tie dye alternatives that are a little more classy and sophisticated.
These dresses are from
Soul Flower
and use a different style of dye from your typical tie-dye. The colors are more subdued. The second dress is
mudmee tie-dye
, which means that the base color is black instead of white, resulting in a darker look. The colors can still be ultra bright, but the black helps to tame them a bit.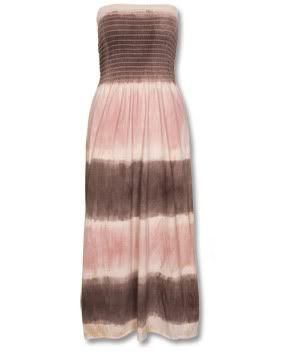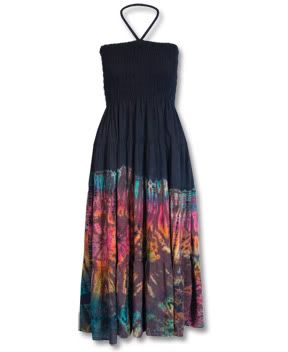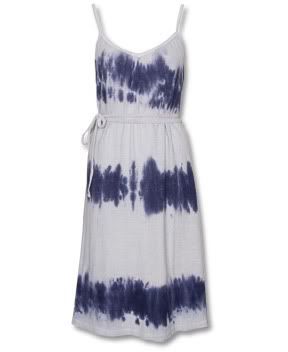 You can indulge your inner hippie with tie dye and still look sophisticated if you stick to more subdued colors in a limited color palette. Instead of every color of the rainbow, pick a piece that only uses blue and white. Instead of an all-over pattern that makes you feel like you should have dirty feet and flowers in your hair, pick something that focuses the pattern on one area of the garment. Or one that looks like an all-over wash of color.
There's also dip-dye. Tie-dye's second cousin, if you will :) Definitely more tame than tie-dye, but still a little bit funky.
Of course, if you want something a little more colorful, with a little more pop, by all means work it!