In September I'll be participating in
30 Days of Lists
, a project where every day in the month of September you're given a writing prompt and encouraged to do a bit of journaling with that prompt, even if it's just a list. Since we don't always have time to create elaborate art journal pages every day, something as simple as a list can keep you on your creative toes. The prompts are open to interpretation, and you just do what you can in whatever amount of time you have.
30 Days of Lists starts on September 1, but
registration is open now
. They're doing some giveaways for registering early, and the private blog community is already welcoming all new participants. I signed up (it's $6) because I thought it sounded like a fun way to keep on track with a project. Plus there's an entire community there, and people to share your pages with, get feedback, get support, and just enjoy the process.
Even though I have a million journals already, I decided to make a handmade book JUST for this project. It's a super simple pamphlet-bound book that anyone can whip up in under an hour (even if you've never bound a book before). The pamphlet binding is about the simplest style of book binding out there; sometimes you'll even see it on a greeting card holding two pieces of paper together.
Here's how I did it!
Gather supplies.
I used big sheets of paper that had printmaking proofs on the backside. The decorated paper is a heavier weight, and is painted with watercolor and some other type of shiny, glittery gold paint (I made it in a bookbinding class a couple of years ago).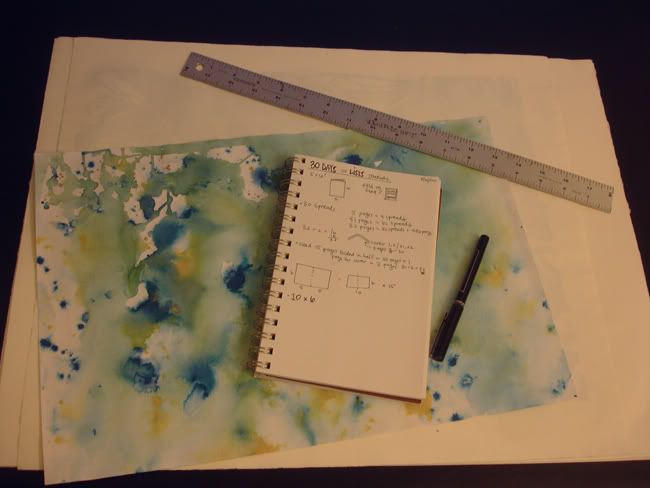 Make a plan.
The book is really simple, but sometimes I need some sketches so I don't mess it all up half-way through!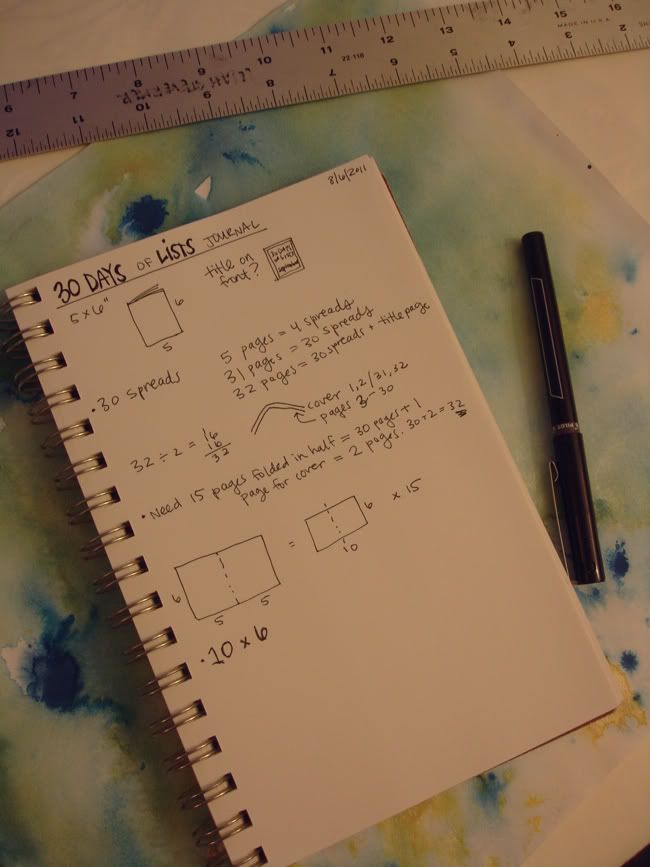 Gather tools.
I didn't use all of these. You just need your paper, a ruler, a cutting tool (like a box cutter or X-Acto blade), needle and thread, and some sort of stabbing device (more on that later).
Measure your pages.
My pages are 10 x 6 inches, so when they're folded in half they end up being 5 x 6. I was able to get 3 pages on each sheet of paper. I could have cut more the other direction, but it would have went
against the grain
. These were scrap pieces of paper (printmaking proofs) anyway so I wasn't really worried about using up every last bit.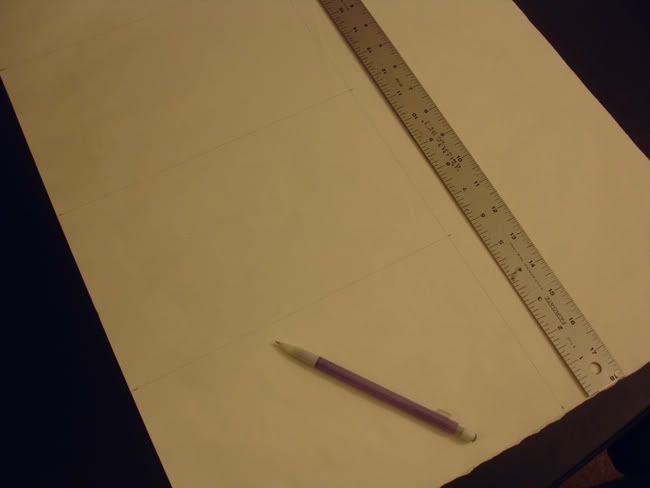 Finished pages.
I cut 15 pages plus 1 cover page.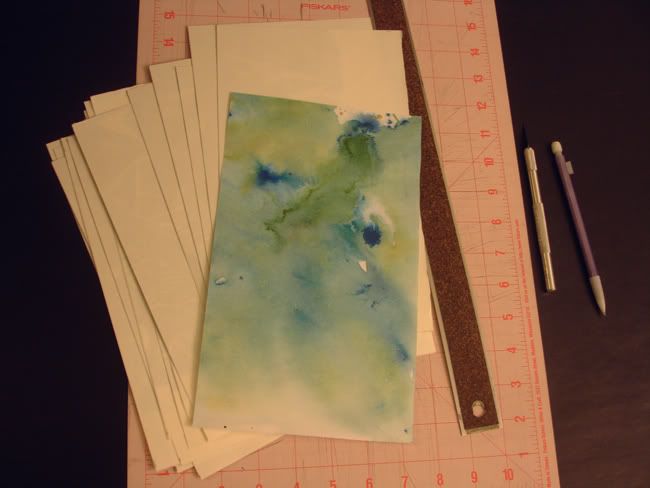 Fold it up!
You can use a
bone folder
like I'm using here, or your fingernail or a pencil to help crease the pages.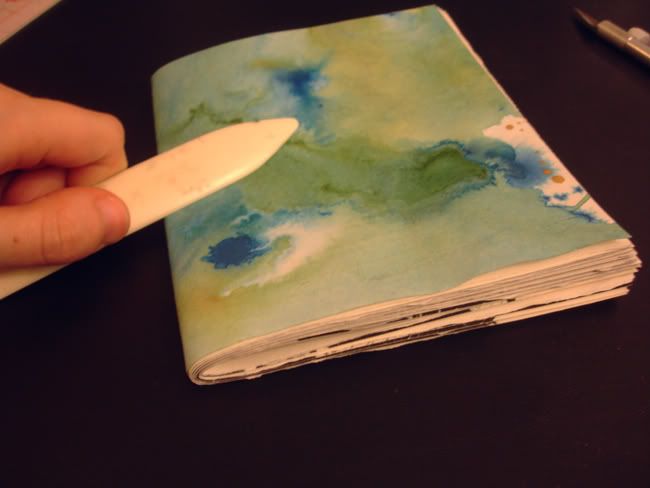 My paper was thicker than normal printer paper, so it got pretty thick!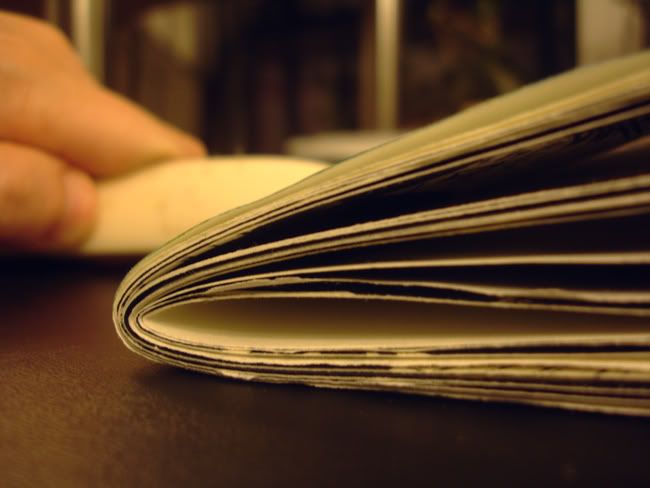 Mark where your holes will go.
Open up the book to the center, and mark 3 holes. I put mine 1 inch from the top, 1 inch from the bottom, and smack-dab in the center. Make sure the holes are evenly spaced from one another, but they can be closer to the edges if needed.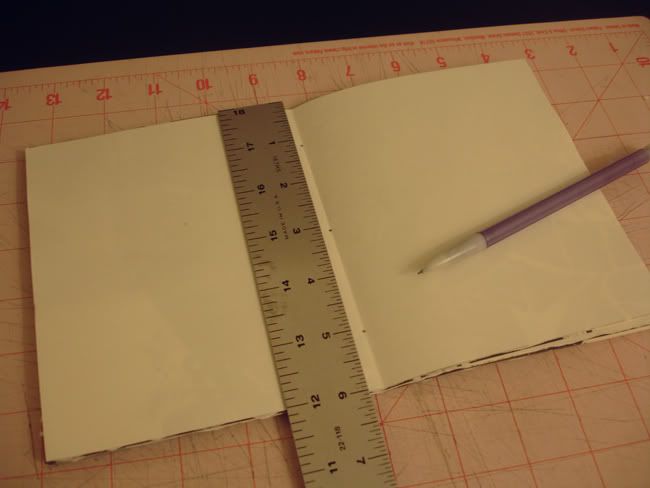 Grab your awl.
The blue one is a real awl, and the cork one is a homemade awl. You really just need a sharp point (needle) on some sort of handle (a cork). The needle is hot-glued around the top to keep it from sliding.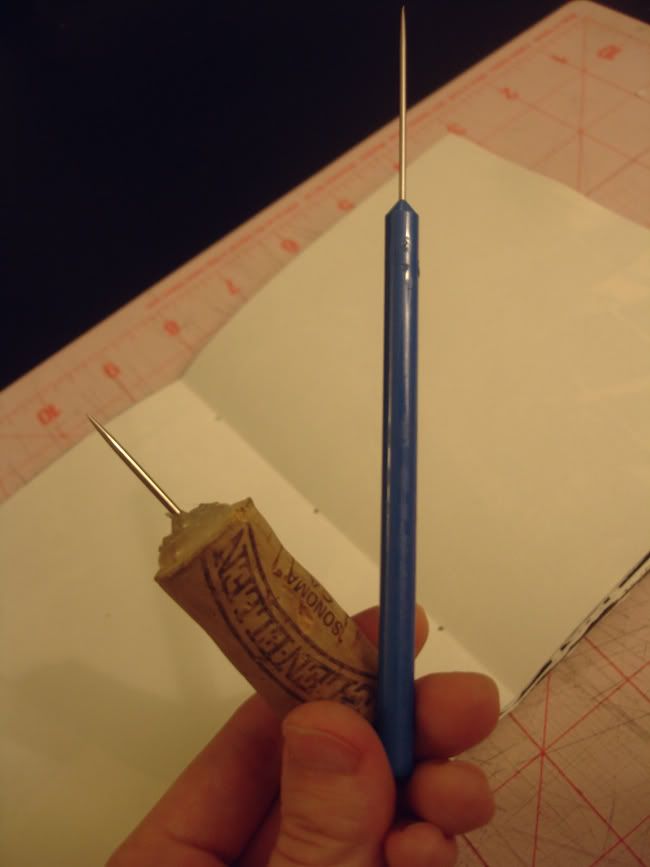 Poke holes.
You might have to twist your awl a bit to get it to poke through all those layers of paper.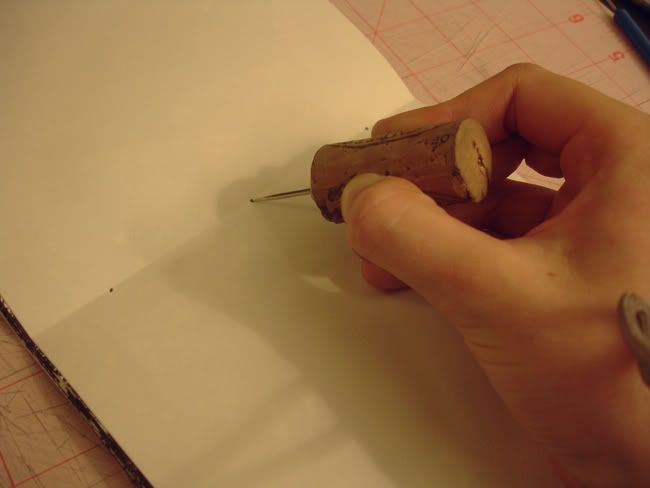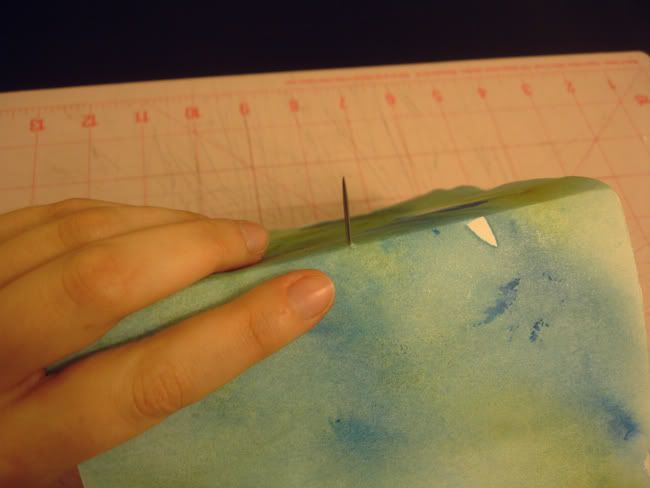 Secure your pages with clips
so the pages don't slip around while you're poking the other 2 holes. If they did slip, it might be hard to get the thread through all 3 holes later.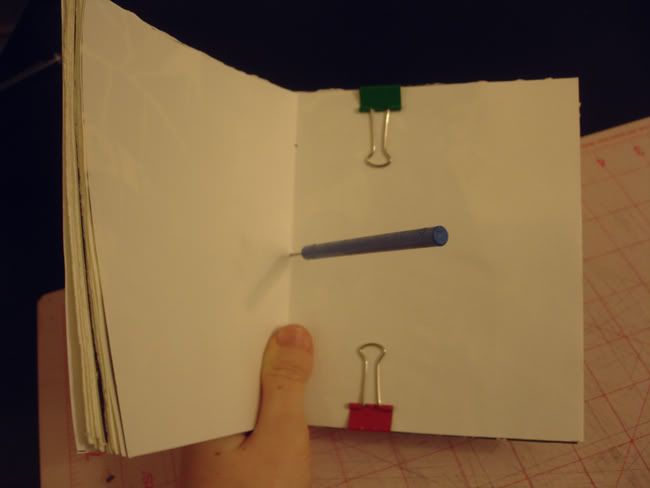 Finished holes on the spine side.
Sew!
Cut a piece of thick string or waxed thread that's about 3 times the length of your book's spine. Start on the spine at hole #2 (the middle hole) and poke in to the center. Leave about a 2" tail behind you.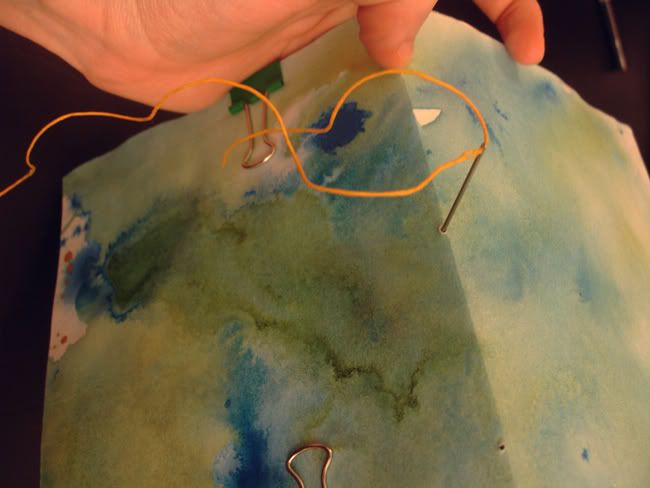 Stitch #2
: Go in to hole #1 (the top hole) back out to the spine.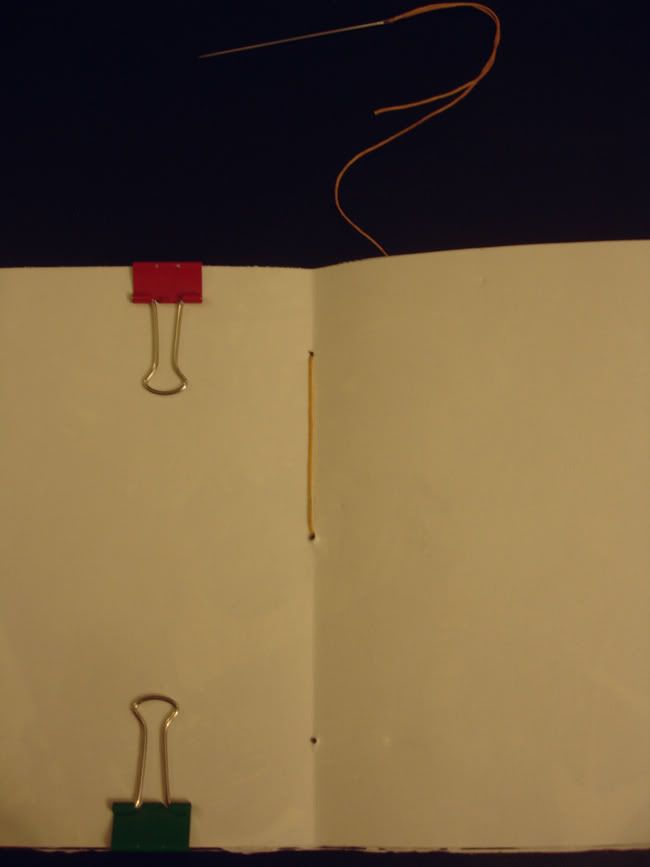 Stitch #3
: Go in to hole #3 (the bottom hole) back in to the center of the book. Make sure your original tail is still there!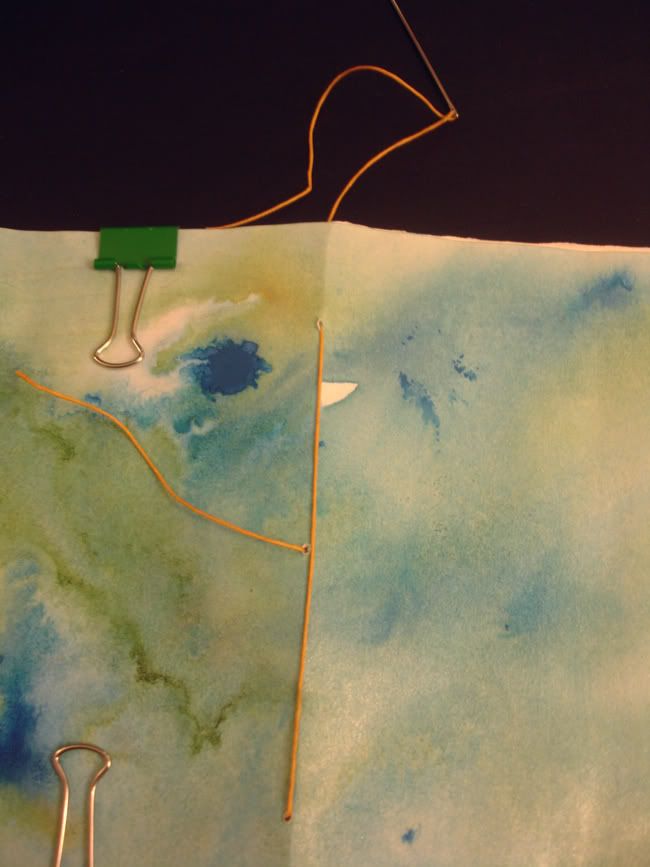 Final stitch.
Go again through the middle hole back out to the spine.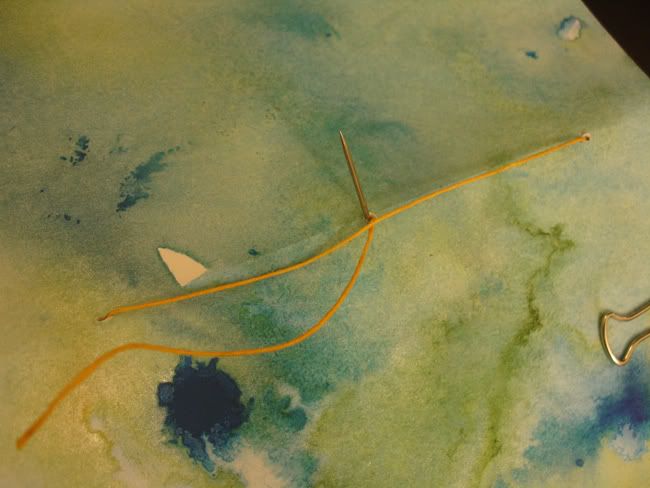 Tighten & tie.
Make sure your strings are straddling the stitch on the spine so they'll hug it when you tie. To tighten the stitches on the book, pull the two loose ends
parallel
with the spine = up & down the spine. Don't pull the strings sideways like they're pictured here, otherwise you might rip open the hole!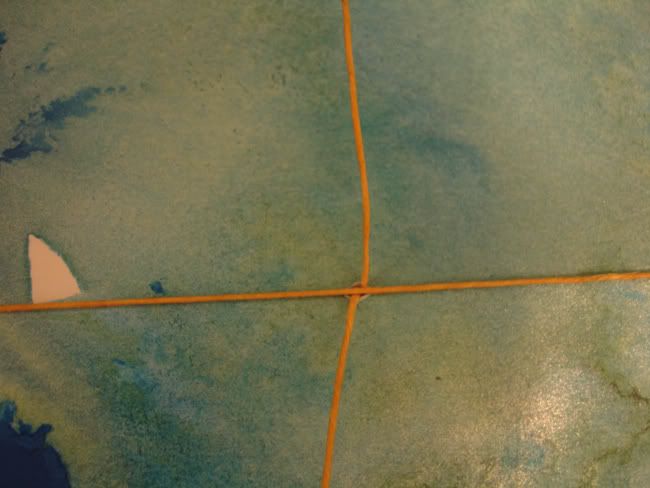 Tie it!
Just do a double-knot. If you leave a longer tail, you can attach beads to make it a little fancier. You can also do these stitches reversed (start INSIDE the book instead of outside), and then your tail will be hidden in the centerfold of your book instead.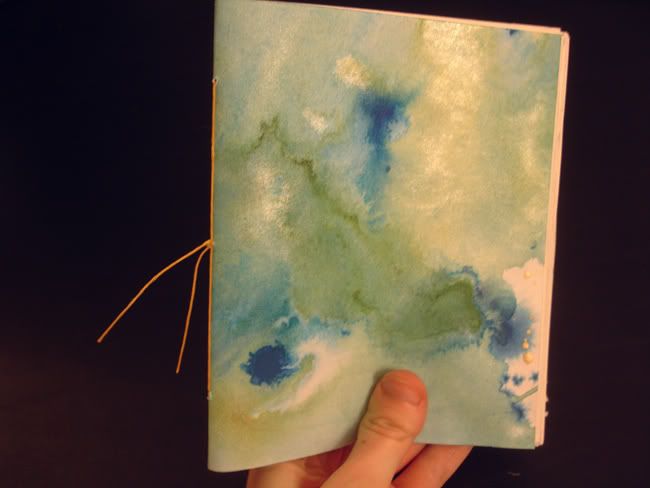 Here's the center of my book. If you do the stitching opposite, your tail end would be here.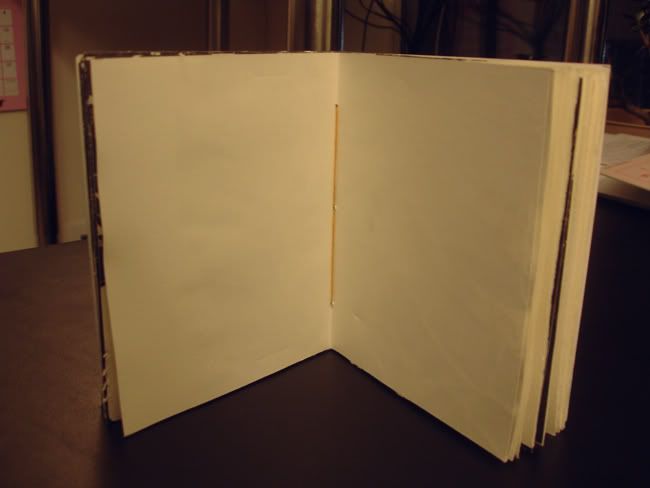 You can see my prints are all over the pages! That's why I decided to do 30 page SPREADS instead of just 30 pages-- this way I have at least one blank page on each spread to write my lists, while the other page is covered in print.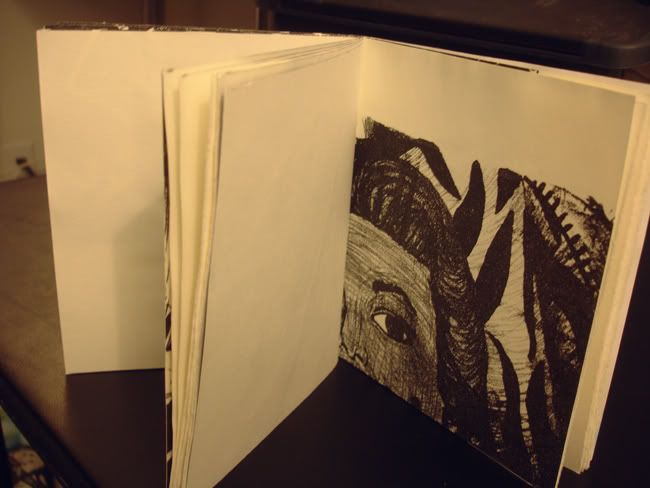 I decorated the front with a title using Sharpie markers, and here's the finished product!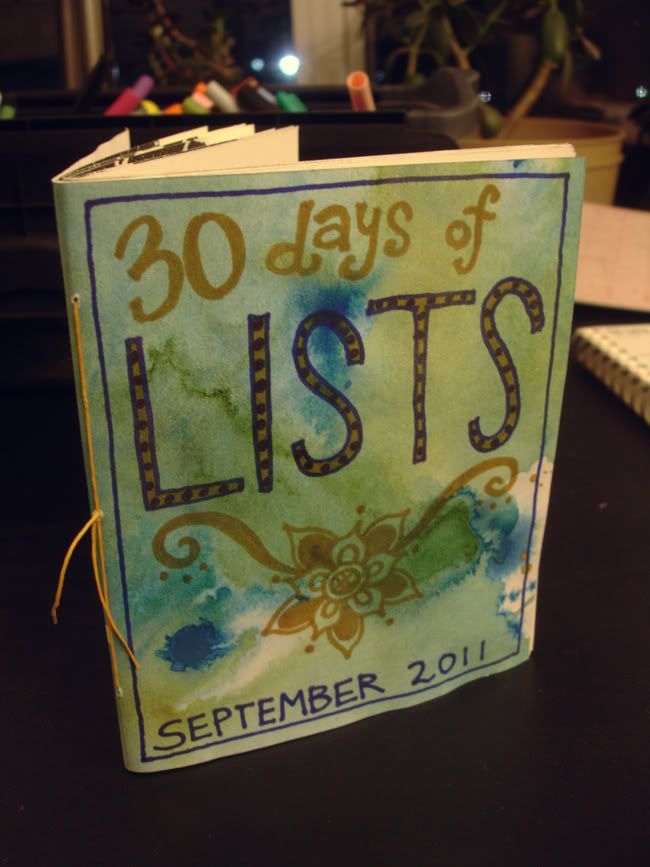 Hey,
#30Lists
folks,
what are you going to use for your lists?
Do you already have a journal/sketchbook you're working at filling up, or are you starting with something fresh for September? Curious to see what everyone else is going to use! :)