So I guess yesterday was
"National Clean Off Your Desk Day."
My desk isn't super messy today, but to examine all the unnecessary stuff cluttering up my desk that doesn't need to be there, let's make a list.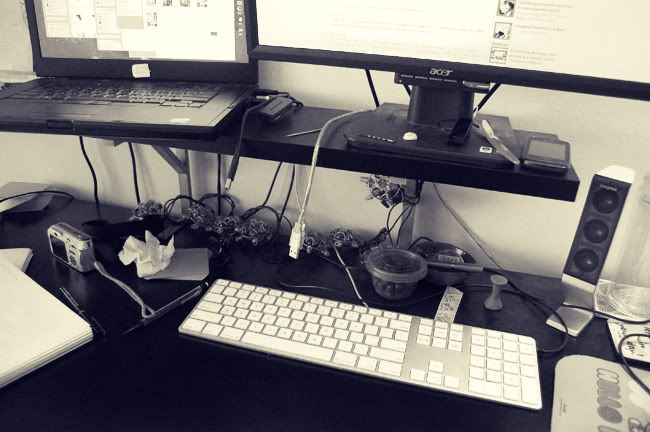 Everything on my desk:
laptop computer
webcam
monitor
Reach flosser
bluetooth headset
cellphone
spiral shell from the beach in Florida
bobby pin (I'm surprised there's only 1 bobbin pin... usually there are several)
toothpick
SD card reader
2 GB SD memory card
2 speakers
stack of note paper
black headband
twisty tie
point&shoot digital camera
a kleenex that should go in the garbage
hair clip
Precise V5 black pen
mechanical pencil
string of garden lights
Gladware container full of cookie dough bites (3 weeks old...)
4 postcard stamps
gray putty eraser shaped into a martini glass (sorta)
tile coaster
rubber coaster
empty water glass that's actually a tea tumbler
Hello Kitty mouse pad
HP mouse
sketchbook
blue ballpoint pen
lined notebook
10 sheets of printer paper, printed on one side, drawings on the other
Soul Flower catalog
ceramic bowl

Carmex lip balm
Burt's Bees lemon butter cuticle cream in a tin
Soul Flower hemp lip balm
SanDisk flash drive
pair of ear plugs

scanner cord (half on the desk, half off)
external hard drive cord (half on the desk, half off)
keyboard
Speaking of decluttering and organizing, which seems to be a popular topic this time of year... if you need inspiration, watch some videos & get inspired to clean up your clutter!
Free Clutterfat Challenge Webinar
by Leo Babauta of
Zen Habits
.
FlyLady TV
by Marla Cilley of
the Fly Lady
.