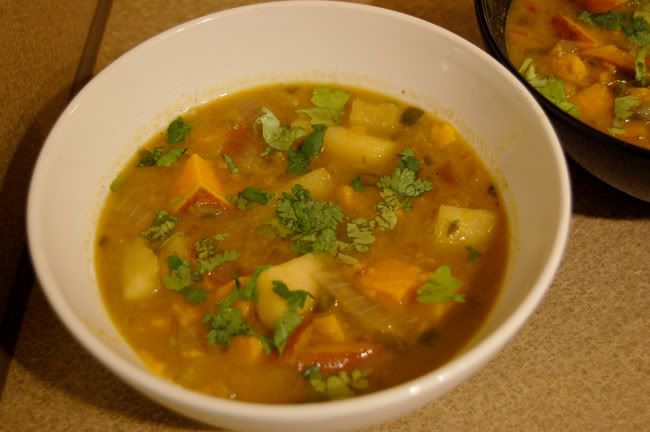 This recipe is from the article
Recipes for the Semi-Vegan
by Mark Bittman for the New York Times. His recipe is really open; there aren't really any measurements for anything. Meant to inspire improvisation, I suppose!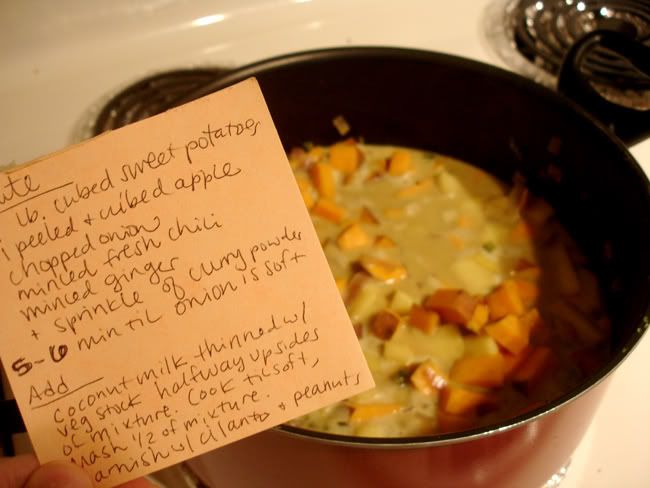 This vegan sweet potato stew is delicious. It's a wonderful mix of sweet and spicy. It has apples and sweet potatoes in it, which makes it sweet. But then the curry powder and chili makes it warm & spicy. So good. So here's how I did it (with measurements)!
Sweet Potato Stew Recipe
- pour about
1 Tbsp olive oil
in your soup pot
Chop these veggies & put them in the pot:
2 large sweet potatoes, chop into cubes
1 firm apple (I used Fuji I think), peeled and diced into small cubes
1 whole onion (any color), chopped
1 whole chili (I think mine was a green Anaheim chili, but anything except bell peppers would probably work), finely chopped
- on top of your pot of veggies add
3 tsp curry powder
and
1 tsp ground ginger powder
Saute
this mixture about
10 minutes
until the onion is soft & translucent.
While it's sauteing, open up a
13.5 oz. can of coconut milk
. I've always heard you should use "light", so mine was Lite Coconut Milk.
Mix up your veggie stock if it's not already.
2 cups of hot/boiling water + 1 vegetable stock bouillon cube
.
Add
coconut milk & veggie stock to the pot.
Simmer and cook
until the potatoes are soft. It takes about 30 minutes. When the potatoes are soft,
mash up about half the mixture
. I used a potato masher and did it right in the pot. This makes the soup thicker and creamier.
Garnish
with cilantro and chow down!
Here's the
segment of the Today Show with Mark Bittman's vegan recipes
, where this sweet potato stew makes a short appearance.