The earliest beginnings of my obsession with collage started around 1997. It was the summer between 4th and 5th grade for me, and it started with a simple red notebook where I started gluing in my daily wristbands from the public pool.
Aladdin, Genie, Dr. Seuss, Goofy, Casper, KitKat bars = things I liked in 1997!
Pool wristbands with the date. Hole punches are for number of times down the big slide.
Starting in about the year 2000, I decorated my school planners from front to back with clippings from magazines, catalogs, and printouts from the internet. I stuck it all down with glue, tape, and mod podge. I remember my friends seeing the pages of my planner plastered with collage and thinking it was cool and flipping through it. I love how these collages are a visual record of all the things I was into at the time - music, celebrities, tv and movies...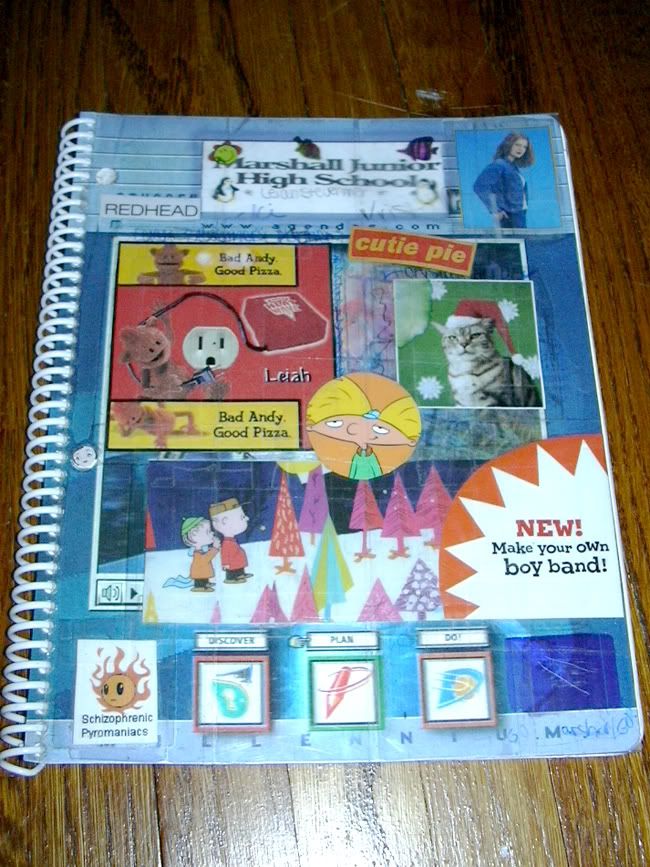 8th grade planner. Drew Barrymore (Charlie's Angels era!), Hey Arnold, Charlie Brown, and "Schizophrenic Pyromaniacs," a logo for my friends' "club." I don't remember the Bad Andy Good Pizza thing, but it looks like a mascot for Dominos Pizza.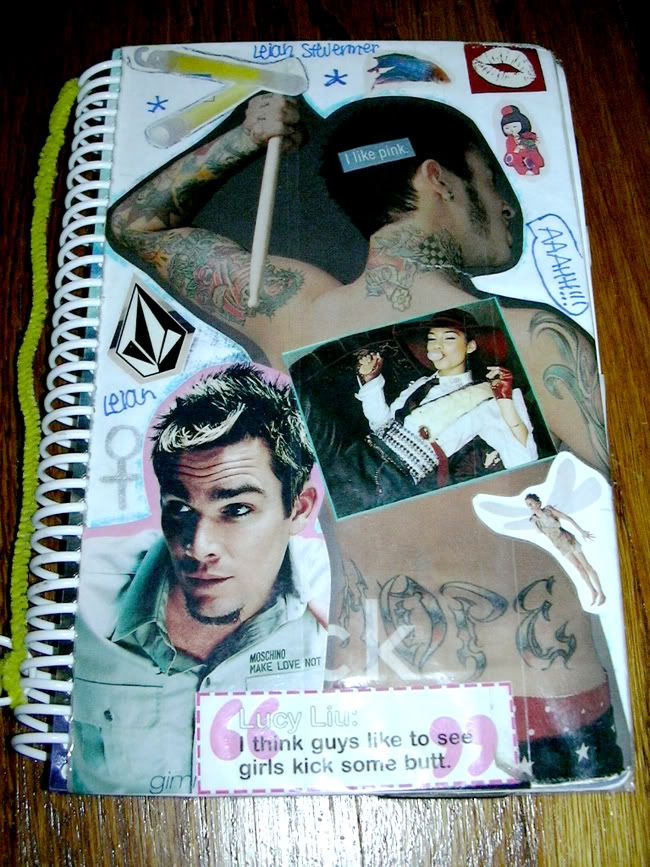 9th(?) grade planner. Glowsticks, Travis Barker from Blink 182, Alicia Keys, fairy guy from FairyTale movie, Mark McGrath from Sugar Ray, and a quote from Lucy Liu (I loved Charlie's Angels).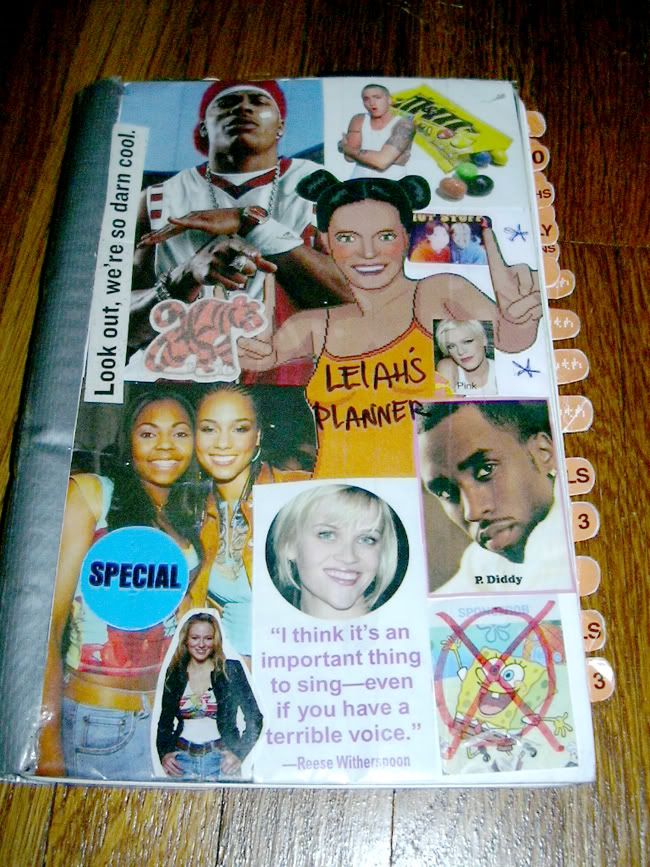 10th(?) grade planner. Nelly, Eminem, Alicia Keys and Ashanti, Jewel, P. Diddy, Pink (loved her!), and Reese Witherspoon. I hated Sponge Bob.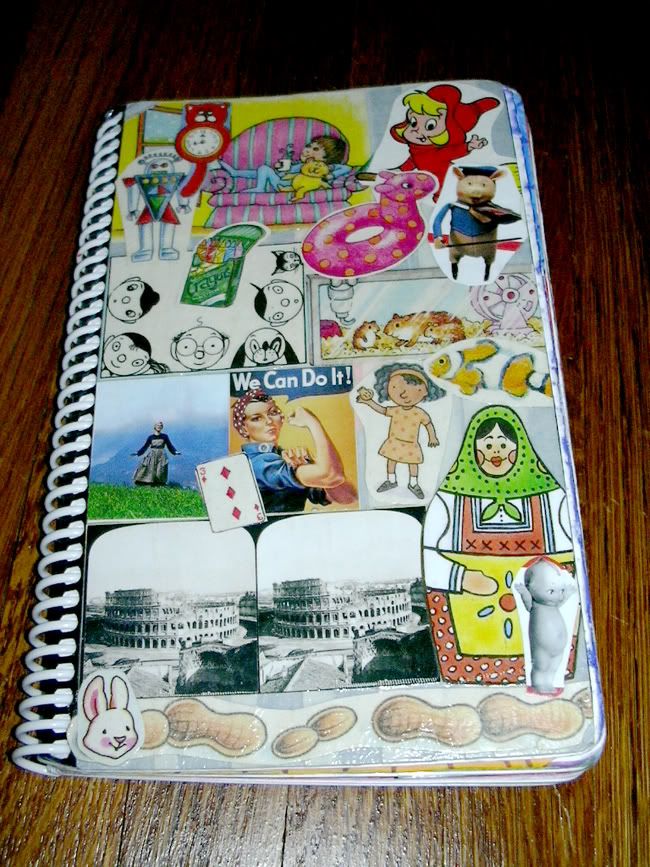 Senior year(?) planner with a bunch of illustrations clipped from Highlights magazines. Sound of Music, Wendy from Casper & Wendy, a kewpie doll, and a fish that looks like Nemo.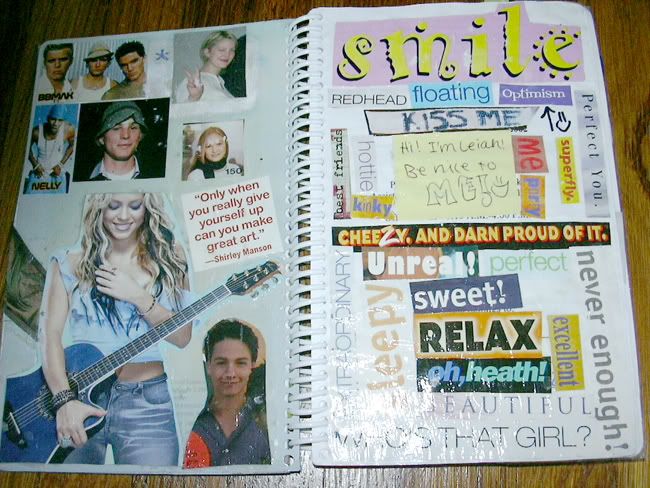 9th(?) grade planner. BBMak, Drew Barrymore, Nelly, Josh Hartnett, Julie Stiles (Save the Last Dance!), Shakira, and actor Gregory Smith from Zenon and Harriet the Spy (I must have had a crush).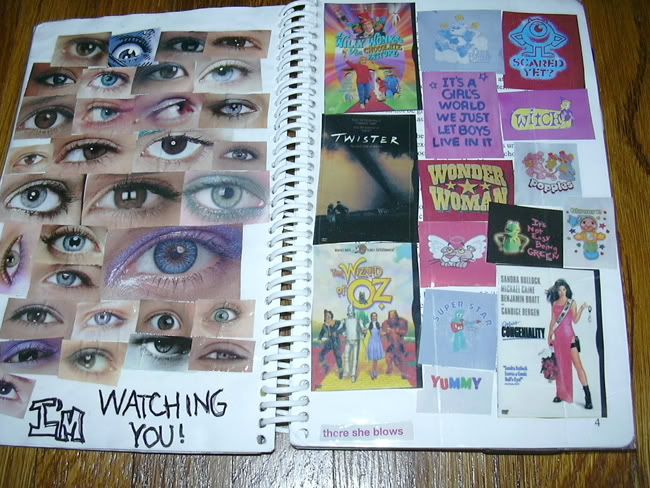 High school planner (not sure which year). Collage of eyes, Willy Wonka, Twister, Wizard of Oz, Bewitched, Miss Congeniality - some favorites!
Senior year(?) planner inside - an homage to Tim Burton. Quote reads "I think best when I'm drawing." ~Tim Burton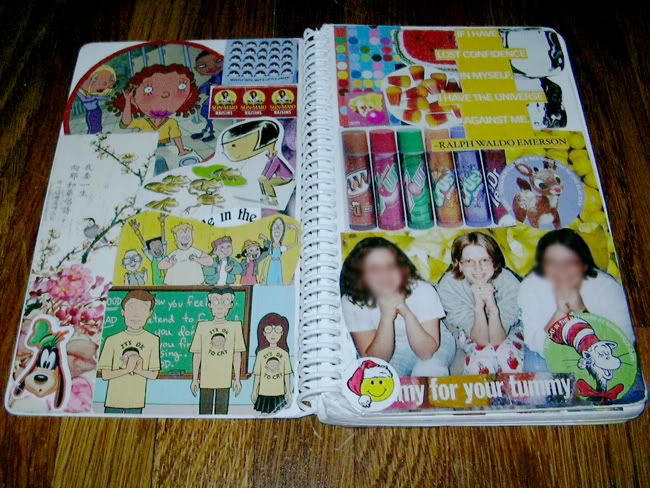 11th grade(?) planner. As Told By Ginger, Recess, Daria (love!), Rudolph, Dr. Seuss, and a bunch of other colorful clippings. Plus a super nerdy photo of me wearing someone else's glasses!
This is just a small slice of the things I collaged when I was younger. I still love collage, but looking back at these, I'm amazed at how free I was in my use of color and materials. What a fun flashback!
"If I have lost confidence in myself, I have the universe against me."
~Ralph Waldo Emerson