I know this post is late! Oops.
T is for troubling. And what is troubling? Maybe not so much troubling but
concerning
was the size of the strawberries we bought the other day. They were the size of my palm.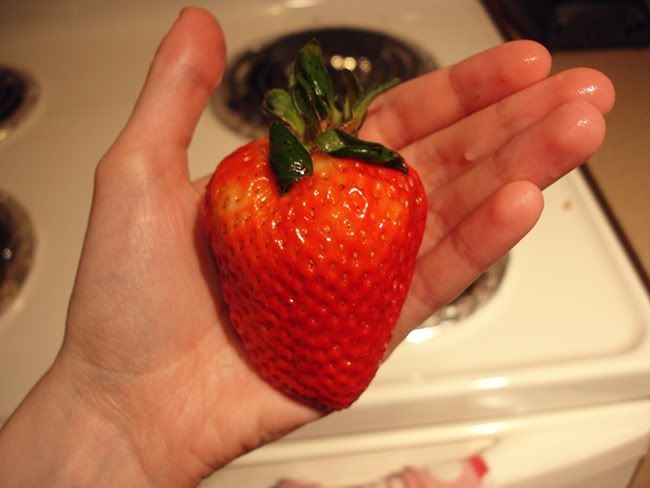 They're from a company called
California Giant Berry Farms
.
When I saw these babies in the store I said, "woah, these are mutant strawberries! they must be genetically modified." But nope, I'm wrong:
"California Giant does not use GMO"s. California Giant relies of traditional breeding methods used by University breeders in developing the most flavorful and highest quality fruit available in each of our growing districts. For our customers, this means continued enhancement of our berries' flavor, size, condition and color."
Nevermind the typos in that quote (pasted directly from
their website
). "Enhancement of size" ...to enhance something means to make it better than it was before. But who says a larger strawberry is better? Why would I want a giant strawberry? I cut them into bite-size pieces anyway. Why don't you make bite-size strawberries instead? Grow them without the green part so I can just pour them into my mouth like blueberries or raspberries. Or, if you're going to develop and grow GIANT strawberries, make them even bigger and sell them separately like apples! A strawberry apple!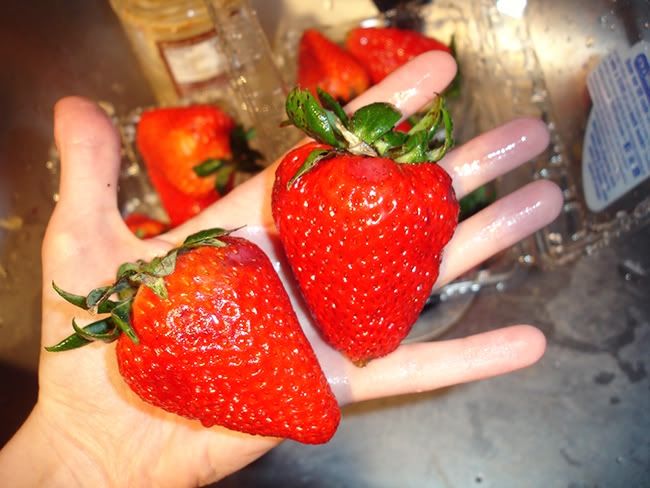 Anyway, my point is: Bigger isn't always better. And the fact that our society (including berry farms) seems obsessed with bigger, newer, faster... is troubling.