**Please don't hotlink these graphics! My bandwidth limits keep getting exceeded on these! Steal them and host them yourself. **

In February, I confessed on Google Plus:
Random weird factoid about me: I collect animated "wait" gifs from the internet. I have a whole folder of them.
I'm not sure when this obsession with collecting animated "wait" graphics started, but it was at least 7 years ago. When I see one on the web, I right-click-save-as. The fun part about collecting these is that it's a challenge: when you see them, you're waiting for the next page to load, which means you only have a matter of seconds to quick save the image!
In the years that I've been hoarding away these gifs, I've never had a use for one. Never. Maybe if I were a web developer or something I would use them. That's why I'm going to share them here. Maybe
you
can use one of these animations. These were collected from across the web, and I have no idea where most of them came from. Leave a comment if I'm infringing on your beloved copyrighted graphic.
Read on to see all 80+ animated wait/processing/loading graphics...
rotating arrows




dots & petals






snakes


big circles - dots





big circles - petals





big circles - ticks









big circles - bars



big circles - snakes





dotted lines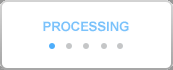 bars







barber poles




others